Set Photos: 'The Muppets' Take Over Hollywood Boulevard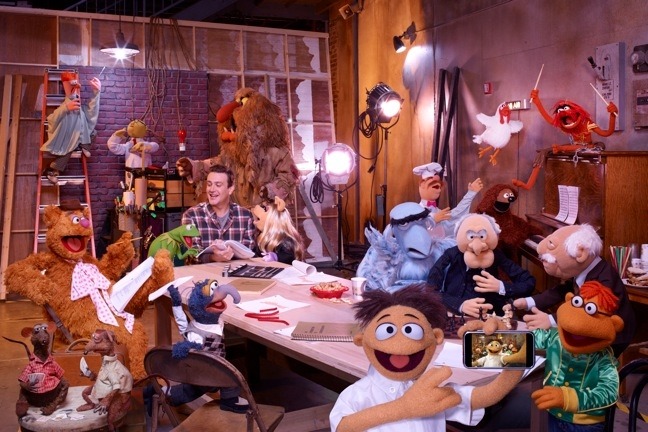 Living in Hollywood, when you see a sign that says Hollywood Boulevard is closed between Orange and Highland for any amount of time, it usually means they're hosting a premiere at the Grauman's Chinese Theater. This week though, the sign said the street was closed for two straight evenings, and I knew a movie was shooting.
My friend and I walked down there tonight and struck gold when we found a huge musical production from Disney's upcoming The Muppets. Jason Segel, Amy Adams, Kermit, Miss Piggy, they were all on hand along with hundreds of extras performing an elaborate musical number outside Disney's El Capitan Theatre. You weren't allowed to snap photos while they were shooting but, between takes, we were able to snag a few photos. They're crappy phone shots from an iPhone and a Droid so don't expect Annie Lebowitz, but if you are interested in getting a glimpse of The Muppets, check out the photos below the jump.
Be warned, the musical sequence in question is probably in the final act of the film and thus may contain spoilers.
Again, these photos should be considered spoilers. Here they are, followed by what I can deduct is going on.
Some things to look for:
You can just barely make out Jason Segel and Amy Adams in front of the crowd in the photo in the third photo down on the left.
In the photo on the bottom right, you get a full look at how many people were in the shot.
The photo of the Muppets themselves on the bottom left looks like crap because I zoomed in.
As we already know about the movie, it's largely based on the fact that The Muppets are trying to get their theater back. Well, as you can sort of see in some of the shots above, the marquee reads for "One Night Only" there's "The Muppet Telethon" being held "Live at Newly Renovated Muppet Theater Hollywood." So, it seems like they get a brand new theater and hold a telethon during which a huge musical number happens outside. Also, we think the El Capitan marquee is going to be digitally removed because there's a TRON: Legacy disc on top and since it's supposed to be "Muppet Theater," it wouldn't make sense for it to say "El Capitan."
Some things you don't seen in the photos are the fact that a lot of people were holding up signs for their favorite Muppets, obviously given to them by the production, and they dressed the set incredible far back. Way off camera, extras sat alone in stationary cars just so it would look like the road wasn't sparse. Between takes, the assistant directors would talk to the dancers and reposition the hundreds of background extras just so it looked busier. Everyone was told to give "a lot of energy" and have "big smiles." As for Segel and Adams, they did a few takes while I was there but then it was just the ensemble signing. After director James Bobin was happy with the shot, they broke down for the next one and we left. The filming is supposed to continue all night Monday and Tuesday.