Why We Go To The Sundance Film Festival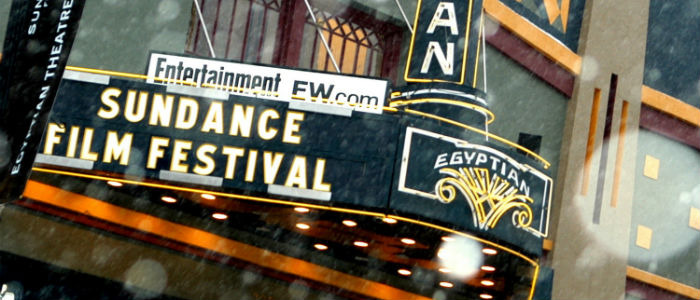 NOTE: We ran this article in 2011, 2012, 2013, 2014 and have updated it for 2015.
The Sundance Film Festival is the best known film festival in the United States. Say the word "Sundance" to anyone, film lover or not, and chances are they've heard of the festival. As a movie blog though, the problem with covering Sundance is that virtually all of the movies are brand new. We haven't heard of them, you haven't heard of them, so why would you even care about them?
More than any of the casting news, trailers or film stills that we post on a daily basis, what happens in that small corner of Utah for a little over a week in January is probably the most important movie event of the year. Even so, talk to the most seasoned movie fan and they don't spend half as much time focusing on what's going on at Sundance as they do bitching about movies that came out three years ago. Plain and simple, the best films that you will see in theaters for the next 12 months are being shown at Sundance over the next week and a half. And while you probably haven't heard of them in January, you'll definitely have heard of them by December. Don't you want in on the ground floor?
For the next 7 days myself, Russ Fischer and Peter Sciretta will be in Park City, Utah at the Sundance Film Festival. And while you might not be eager to click and read about a movie you haven't heard of yet, we urge you to do so. Some of the films that people hadn't heard of when they played Sundance in the past are films like Saw, The Blair Witch Project, Donnie Darko, 28 Days Later, Napoleon Dynamite, Memento, Bottle Rocket, Clerks, Reservoir Dogs and The Usual Suspects. Think of all the movies that have been made since because filmmakers like Christopher Nolan, Wes Anderson, Kevin Smith, Quentin Tarantino and Bryan Singer broke out at the Sundance Film Festival. Who is the breakout star this year? You'll have to follow our coverage to find out.
Still not convinced? We've compiled even more films that you know and love that got their start at Sundance after the jump.
At this time last year, the films screening at Sundance included TWO Best Picture Oscar-nominees, Whiplash and Boyhood. They also had The Babadook, Obvious Child, The Raid 2, Life Itself, Dear White People, The Guest, A Girl Walks Home Alone At Night, The Skeleton Twins, Cold in July, Camp X-Ray, Frank, I Origins, They Came Together, Wish I Was Here, The Battered Bastards of Baseball, Listen Up Philip, What We Do In The Shadows and more. And that's just last year.
In previous years (besides the huge ones we mentioned above the jump) films as diverse as  Don Jon, The Spectacular Now, Before Midnight, The Way Way Back, Fruitvale Station, Upstream Color, Escape From Tomorrow, The Kings of Summer, Blackfish, Twenty Feet From Stardom, The Cove, Red State, Like Crazy, I Saw the Devil, Being Elmo, Precious, Moon, 500 Days of Summer, The Raid: Redemption, V/H/S, Room 237, Beasts of the Southern Wild, In Bruges, Time Crimes, Half Nelson, Little Miss Sunshine, The Descent, Hustle and Flow, Foot Fist Way, Primer, Better Luck Tomorrow, You Can Count on Me, The Squid and the Whale, American Splendor, Hedwig and the Angry Inch, Super Troopers and American Psycho all played at Sundance.
It's not Star Wars: The Force Awakens or Avengers: Age of Ultron, we know, but that's a pretty solid list of movies and you can guarantee that in 2015, we'll be adding to it.
Over the next few days, Peter, Russ and I will be seeing as many movies as possible. When we have a few moments between that, we'll eat, sleep and even write about them too. And while not everything that plays in Park City is guaranteed to be a classic, most of the stuff becomes well-known.
What movies playing at Sundance this year are you most excited to see?