'Cave Of Forgotten Dreams' Trailer; Werner Herzog Goes 3D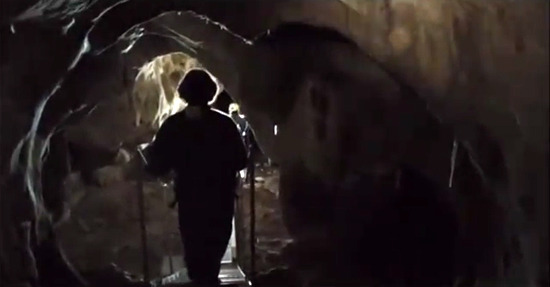 Werner Herzog makes some irresistable documentaries. His latest is the 3D cave doc Cave of Forgotten Dreams, which did festival rounds late last year. Now there's a trailer for the film, which you can see after the break.
Though the acts seemingly couldn't be more different, there's something about cave-delving and cinema that meshes perfectly. It's the function of light in each endeavor that ties them together for me. Cinema is about bringing light to subjects. So, seen from that perspective, cave-diving is similar, as spelunkers take light down into non-illuminated spaces, and the light they bring defines the space and the experience.
And, since the cave seen here, the Chauvet-Pont-d'Arc, is
Here's info about the film from the TIFF website, published in advance of the film's premiere at the fest last year:
Werner Herzog is a wizard at conjuring unforgettable visions..Now he brings us the earliest known visions of mankind: the Chauvet-Pont-d'Arc cave art of southern France, created more than thirty thousand years ago. By comparison, the famous cave art of Lascaux is roughly half as old. Since Chauvet's discovery in 1994, access has been extremely restricted due to concerns that overexposure, even to human breath, could damage the priceless drawings. Only a small number of researchers have ever seen the art in person.
Herzog gained extraordinary permission to film the caves using lights that emit no heat. But Herzog being Herzog, this is no simple act of documentation. He initially resisted shooting in 3D, then embraced the process, and now it's hard to imagine the film any other way. The 3D format proves essential in communicating the contoured surfaces on which the charcoal figures are drawn. Beyond the walls, Herzog uses 3D to render the cave's stalagmites like a crystal cathedral and to capture stunning aerial shots of the nearby Pont-d'Arc natural bridge. His probing questions for the cave specialists also plunge deep; for instance: "What constitutes humanness?"