'Alien Sleeper Cell,' From The Producer Of 'District 9,' In Development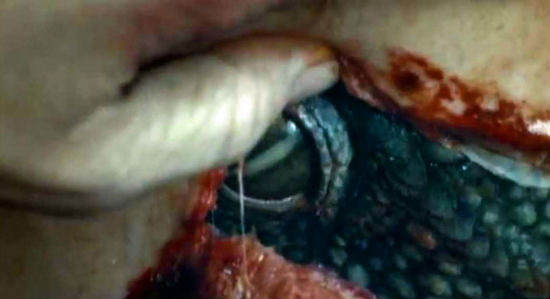 The title "Alien Sleeper Cell" conjures up a very specific scenario. Aliens pass for humans and live among us until, triggered by a cataclysmic event, they rise up to take over the humans. Which, actually, sounds a lot like the ABC show V. That's probably a good thing because any image that title brings to mind is more evocative than the actual information that's out there for the new project Alien Sleeper Cell.
Concerning "otherworldly beasties" the film is currently in development based on an idea by producer Felipe Linz. It'll be written by former editor Morgan Davis Foehl and produced by Adrian Askarieh and Bill Block, who produced District 9. Read more about the parties involved after the jump.
Variety broke the story about this project and focused on the fact that Block and Akrarieh seem to be developing this project outside the studio system. Money has been raised to hire a screenwriter and once the script is done, they'll take that around to get funding for the film.
Askarieh is best known around Hollywood for developing projects based on well-known video games such as Kane & Lynch and Hitman. He's also involved in developing Hack/Slash, Lost Squad and Jonny Quest as well as Leonardo da Vinci and the Soldiers of Forever. Block produced District 9, W., The Perfect Getaway as well as Vanilla Sky and he'll once again working with Neill Blomkamp on Elysium.
The screenwriter, Morgan Davis Foehl, is an interesting story too. He was an editor on Rescue Me as well as I Now Pronounce You Chuck and Larry before converting to a screenwriter. He landed on the 2009 Black List with his script called Whatever Gets You Through the Night and wrote an adaptation of the comic book series Crosshair.
There's no guarantee this project will ever see the light of day, but if a producer behind District 9 gets excited for a new and interesting take on the alien story, it's worth keeping an eye on.