Early Buzz: 'Scream 4'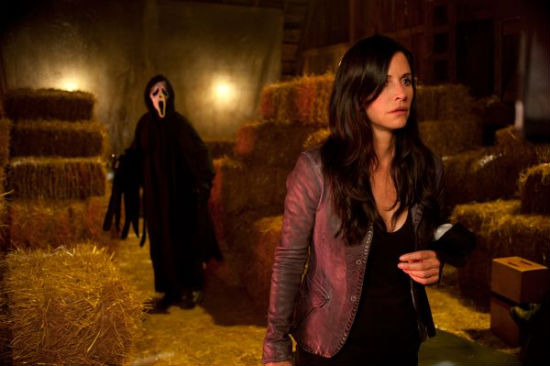 Wes Craven's Scream 4 had an early test screening in Pittsburgh on January 6th 2011, and the first impressions have begun to appear online. Hit the jump to find out what people think. I've removed all possible spoilers, so feel free to check it out.
Disclaimer: Test screenings happen for a reason. The film has not completed post production and the filmmaker/studio want to see what works and what doesn't. Films can change drastically from a test screening cut, or might not change at all. The bottom line is that you can't take the opinions from a test screening as a true review of the final feature film. But I think it gives you a nice indication of what general audiences might think.
This "work-in-progress" screening was said to be missing a few effects shots, and was somewhere between an hour and forty five minutes and two hours long. The crowd was reportedly heavily recruited with minorities. Here are excerpts from some of the early reviews:
DanielleRocks from Scream-Trilogy: It was phenomenal! What can I say. This outshines the 3rd one easily. Definitely the bloodiest of all of them, but I feel like they'll edit some of it down. An unrated DVD would be nice to have though. All the acting was superb. Not one flaw. The opening scene was hilarious and brutal. Definitely a lot of great Williamson writing. The characters all felt very genuine. Gale was back to her bitchy self, and had a bunch of great one-liners. The ending was insanity. Easily the best of all the series, in my opinion, anyways. The crowd experience was great, and everybody was totally into it. Cannot WAIT to see this in theaters come April. Hopefully they don't change anything. Loved it loved it loved it."
From the comments at Scream-trilogy.net: "By far the best opening in the series. Smart, hilarious and absolutely brutal. The movie is a lot like the first in the series in a lot of ways, something that is commented on with plenty of self-awareness throughout the script. This is a very, very good thing. I disagree about the gore....I felt that was the one thing that felt unfinished about what they called a "work-in-progress". Some of the effects shots seemed toned down or incomplete, but it didn't detract from the experience at all. Acting was great, with one major exception. I definitely think they seriously miscast one of the roles. No more detail about that, but still, it wasn't that big of a deal for me.
cowherpower_2006 on IMDB: "The movie starts off very good like a typical Scream movie. The movie has a very good flow up until the we get towards the end of the movie. The killer(who I won't say) is just stupid and takes away from an other wise good buildup in the movie. Also the ending had to have been at least 20 minutes or longer and just kept going on and on and on. Finally when it does end you are bored out of you mind and it really kills what was otherwise a very good movie. Remember an ending to a movie is very important and can make or break it."
Tweets:
Kierdawg Westly Jones
xmanwesjones Zachariah Swope
Zach_riah_swope Mike P
MShakeMP
Official Plot Synopsis: "Sidney Prescott (Neve Campbell), now the author of a self-help book, returns home to Woodsboro on the last stop of her book tour. There she reconnects with Sheriff Dewey (David Arquette) and Gale (Courteney Cox), who are now married, as well as her cousin Jill (Emma Roberts) and her Aunt Kate (Mary McDonnell). Unfortunately Sidney's appearance also brings about the return of Ghostface, putting Sidney, Gale, and Dewey, along with Jill, her friends, and the whole town of Woodsboro in danger."