'Three Stooges' Shortlist Includes Johnny Knoxville And Andy Samberg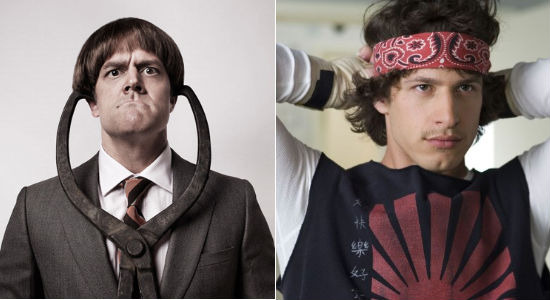 Last month, the feature film version of The Three Stooges moved from the struggling MGM to 20th Century Fox, along with writer/directors Peter and Bobby Farrelly. Once attached stars Jim Carrey, Sean Penn and Benicio del Toro were long gone but with the change of studio, the movie once again had a pulse. That pulse is now quickening according to The Wrap who reports that "advances have been made, representatives have been approached and discussions have taken place" for Johnny Knoxville, Andy Samberg and Australian comedian Shane Jacobson to play Moe, Larry and Curly. Read more after the jump.The Wrap quotes an agency insider about the possible casting of the blockbuster comedy, which would ideally start production in March.
With Jackass and Saturday Night Live respectively, Knoxville and Samberg each have plenty of experience in both the physical and comedy realms that would be necessary to play a good Stooge. Knoxville even dressed up as Moe for a recent Vanity Fair photo shoot (see above) and worked with the Farrelly's in The Ringer. Jacobson, on the other hand, is an unknown here in the States. He currently hosts Top Gear Australia and won a Best Actor award in Australia for his work in the 2006 film Kenny.
Casting any combination of these actors seems well in line with the following Peter Farrelly quote:
The script is ready to go, and we are opening up these roles to the world right now. We'll make it with the best possible people. Our feeling is that no star is too big to audition and no matter who it is, we're going to have to see him in the role. This is not The Flinstones. You've got to be Moe Howard, Larry Fine and Curly Howard, and that could be a major movie star or an unknown.
The only other thing we know about the film is that it will be broken into three, 27 minute segments.
What do you think about Knoxville, Samberg and Jacobson as your 21st century Three Stooges?