'The Wackness' Director Jonathan Levine's Top 10 Movies Of 2010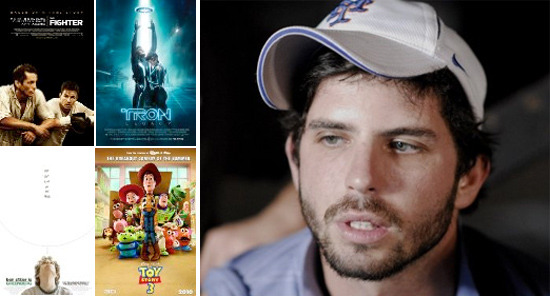 Jonathan Levine, the director of The Wackness, All The Boys Love Mandy Lane and the upcoming dramedy Live With It, has submitted his list of the top 10 movies of 2010. Levine's list is the most unique I've seen from a filmmaker this year, including a few selections I haven't seen on any filmmaker or critic top ten list this year. Read the list after the jump.
1. The Fighter – "The first 30 minutes alone are some of the most kinetic filmmaking i've seen in ages."
2. Toy Story 3 – "No film of 2010 made me laugh or cry harder"
3. Greenberg – "...like a great Cassavetes movie but less boring."
4. The Kids Are All Right – "Incredibly acted"
5. Exit Through The Gift Shop – "I Believe It."
6. Black Swan – "Aronofsky has done so much for film as a sensual medium."
7. Tron: Legacy – "The first time I've ever seen 3D that didn't make my brain hurt. It looked amazing. Daft Punk provided the best score by a band since Queen did FLASH GORDON."
8. Cyrus
9. Howl – "so inspired, so unique, and so smart."
10. The Runaways – "I admire the creative bravura of it"
You can read Levine's extended thoughts on each of the selections on VeryAware.com.
Discuss: Which selections do you agree or disagree with?Other Top 10 Lists: