New iTunes Movies Features Attempt To One Up DVD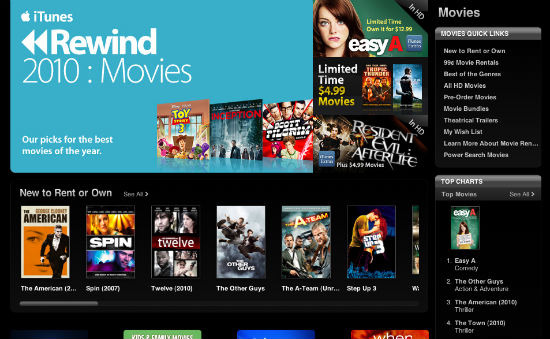 Sony Pictures Home Entertainment is testing new features in iTunes with an eye on the digital distribution of a film becoming its primary one. As it stands now, iTunes movies are generally just that – the movie, with the majority of the special features relegated to a Blu-ray or DVD. But with a few new releases, Sony is "quietly testing" features that will be exclusive to people who purchase a movie on iTunes, such as the ability to clip scenes from their movies to share on social networks as well the ability to search for certain words in the script. It's their hope that features like this will entice people to purchase on iTunes instead of DVD while simultaneously acting as an experiment to what's possible within the digital medium.
The first movies to put these features into practice are The Other Guys, Salt and Resident Evil: Afterlife. So if you buy (not rent) The Other Guys on iTunes, you'll see a search button that allows you to search for any word in the script, find it, then jump to that scene and clip it out to share. The Clip & Share feature is also available on Salt and Resident Evil, but they don't have the script search.
Mind-blowing add-ons? No, but they do represent the intent of studios like Sony, which declined comment, to offer differentiating value on digital platforms from that on DVD, where extras are often nothing more than a collection of additional short videos.
That's from the PaidContent.org article on this subject.
It seems like each and every Blu-ray you buy these days comes with a digital copy and, almost always, that digital copy is downloaded from iTunes. That makes it pretty obvious movie studios believe the digital distribution of their movies is becoming more and more prevalent. Which, of course, it is, especially when a 10-year-old can grab a HDMI wire and run it from his laptop to his living room television.
Personally, I'm old school. If at all possible, I like to have something physical in my hand. But that's slowly going away. With the testing of features like these, it seems inevitable that studios will eventually just put up full releases, complete with extras and interactivity, up online. It saves them a whole bunch of money.
What do you all think of this trend? Are there any features you can think of that would make you buy a movie on iTunes before buying it at a store?
Source: Cult of Mac