First Look: Michael Shannon And Jessica Chastain In 'Take Shelter'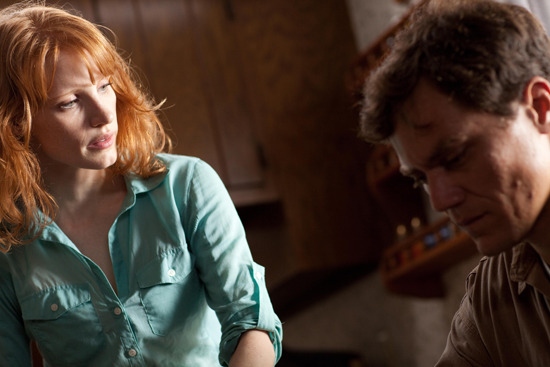 I expect we'll be hearing a lot about Jessica Chastain in the coming year. She's one of the leads in Terrence Malick's long-awaited The Tree of Life (see the trailer here) and will be showing up in the adaptation of The Help, in Ralph Fiennes' Shakespeare revamp Coriolanus, in The Fields, and, probably in 2012, in John Hillcoat's The Wettest County in the World. Quite a resume for an actress with only three other feature credits, one of which is in John Madden's The Debt, held up in the Miramax sale.
But before all of that she'll be seen with the great Michael Shannon in Take Shelter, an indie drama with an odd, almost high-concept premise.  That's the first image of the pair, above, and there are more shots and some info after the break.
Take Shelter, directed by Jeff Nichols (Shotgun Stories), will be at Sundance 2011. It also features Shea Whigham (Boardwalk Empire), Katy Mixon (Eastbound & Down), and Kathy Baker. We don't have a lot of story info, but what the Sundance website offers goes like this:
Curtis LaForche lives in a small town in Ohio with his wife, Samantha, and daughter, Hannah, a six-year-old deaf girl. When Curtis begins to have terrifying dreams, he keeps the visions to himself, channeling his anxiety into obsessively building a storm shelter in his backyard. His seemingly inexplicable behavior concerns and confounds those closest to him, but the resulting strain on his marriage and tension within his community can't compare with Curtis's privately held fear of what his dreams may truly signify.
Or, take this shorter version:
A working-class husband and father questions whether his terrifying dreams of an apocalyptic storm signal something real to come or the onset of an inherited mental illness he's feared his whole life.
[via Collider]