New Image: Paul WS Anderson's 'The Three Musketeers'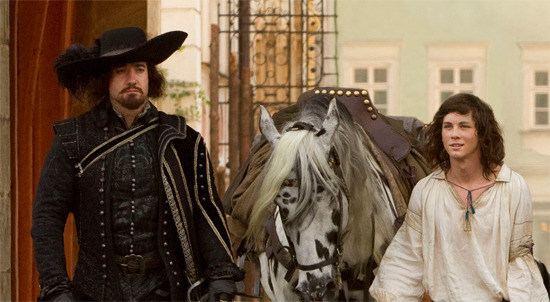 Paul W.S. Anderson won the race to get a new Three Musketeers movie into production. The film doesn't open until October 14, 2011, so a full trailer is probably a ways off. But here's a new image from the film — the first official one, to complement the on-set snaps we previously saw — which features Matthew Macfadyen, Logan Lerman, Ray Stevenson and Luke Evans.
Synopsis and the full image are after the break.
The film also stars Christoph Waltz, Milla Jovovich, Mads Mikkelsen, Til Schweiger, Juno Temple and Orlando Bloom. I'll watch the movie just for half that cast. And I'm no fan of Anderson's films, but I always hope he'll make one I like, so I'll give this a shot.
The hot-headed young D'Artagnan (Logan Lerman) joins forces with three rogue Musketeers (Matthew MacFadyen, Luke Evans and Ray Stevenson) in this reboot of Alexandre Dumas'  story.  They must stop the evil Richlieu (Christoph Waltz) and face off with Buckingham (Orlando Bloom) and the treacherous Milady (Milla Jovovich).  The action adventure is given a state of the art update in 3-D.
Click the image to enlarge.