The Toronto Film Festival's Essential 100 Movies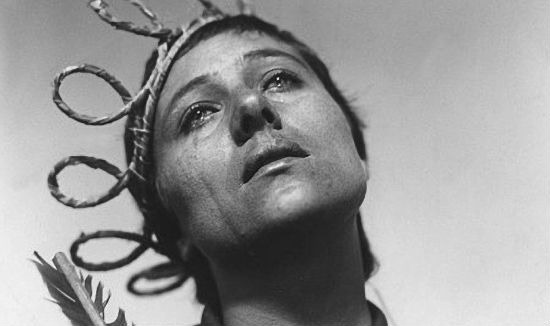 It seems like only yesterday that the American Film Institute released their 100 Years...100 Movies list. Actually though, it was over 10 years ago when we first got our look at that "definitive" list of the 100 best American movies. They then did a ten year anniversary of it in 2007 with only minor adjustments and both years Citizen Kane held the number one place as the best American movie. Of course, the problem with those lists is that they only list American films. While Hollywood might be considered the epicenter of film, the art form itself spans the globe, way beyond American borders.
That's why the Toronto International Film Festival came up with their Essential 100 movies. Created by merging lists made by Toronto Film Festival supporters along with another made by their programmers, these are supposed to be the 100 essential movies every cinephile must see. And it starts off with a bang as Citizen Kane has been toppled. So bust out your printer and check list, the full list is after the jump.
Thanks to Indiewire for the reminder about this list, though it was actually was first revealed a few months ago, timed with an exhibition that opened at this year's festival. Still, we hadn't published it before and it's an awesome list. There are so many great movies on here that even the best of us haven't seen we figured everyone would want to check it out, even if it has been out there.
The Toronto International Film Festival Essential 100:
1 THE PASSION OF JOAN OF ARC (Carl Theodor Dreyer)
2 CITIZEN KANE (Orson Welles)
3 L'AVVENTURA (Michaelangelo Antonioni)
4 THE GODFATHER (Francis Ford Coppola)
5 PICKPOCKET (Robert Bresson)
6 SEVEN SAMURAI (Akira Kurosawa)
7 PATHER PANCHALI (Satyajit Ray)
8 CASABLANCA (Michael Curtiz)
9 MAN WITH A MOVIE CAMERA (Dziga Vertov)
10 BICYCLE THIEVES (Vittorio De Sica)
11 ALI: FEAR EATS THE SOUL (Rainer Werner Fassbinder)
12 8 ½ (Federico Fellini)
13 BATTLESHIP POTEMKIN (Sergei Eisenstein)
14 RASHOMON (Akira Kurosawa)
15 TOKYO STORY (Yasujiro Ozu)
16 THE 400 BLOWS (François Truffaut)
17 UGETSU (Kenji Mizoguchi)
18 BREATHLESS (Jean-Luc Godard)
19 L'ATALANTE (Jean Vigo)
20 CINEMA PARADISO (Giuseppe Tornatore)
21 LA GRANDE ILLUSION (Jean Renoir)
22 LAWRENCE OF ARABIA (David Lean)
23 PERSONA (Ingmar Bergman)
24 GONE WITH THE WIND (Victor Fleming)
25 SUNRISE (F.W. Murnau)
26 2001: A SPACE ODYSSEY (Stanley Kubrick)
27 VOYAGE IN ITALY (Roberto Rossellini)
28 AMÉLIE (Jean-Pierre Jeunet)
29 CITY LIGHTS (Charlie Chaplin)
30 STAR WARS (George Lucas)
31 SHERLOCK JR. (Buster Keaton)
32 RULES OF THE GAME (Jean Renoir)
33 THE LEOPARD (Luchino Visconti)
34 LA DOLCE VITA (Federico Fellini)
35 L'ARRIVÉE D'UN TRAIN À LA CIOTAT (Frères LumiereLouis Lumière and Auguste Lumière)
36 THE WIZARD OF OZ (Victor Fleming)
37 LA JETÉE (Chris Marker)
38 VERTIGO (Alfred Hitchcock)
39 NIGHT AND FOG (Alain Resnais)
40 PULP FICTION (Quentin Tarantino)
41 THE SEARCHERS (John Ford)
42 SLUMDOG MILLIONAIRE (Danny Boyle)
43 THE CONFORMIST (Bernardo Bertolucci)
44 CITY OF GOD (Fernando Meirelles)
45 TAXI DRIVER (Martin Scorsese)
46 APOCALYPSE NOW (Francis Ford Coppola)
47 SALÓ, OR THE 120 DAYS OF SODOM (Pier Paolo Pasolini)
48 THE SEVENTH SEAL (Ingmar Bergma)
49 LE VOYAGE DANS LA LUNE (Georges Méliès)
50 METROPOLIS (Fritz Lang)
51 THE BATTLE OF ALGIERS (Gillo Pontecorvo)
52 IN THE MOOD FOR LOVE (Wong Kar Wai)
53 VIRIDIANA (Luis Buñuel)
54 LIFE IS BEAUTIFUL (Roberto Benigni)
55 THE SORROW AND THE PITY (Marcel Ophüls)
56 PAN'S LABYRINTH (Guillermo del Toro)
57 THE EARRINGS OF MADAME DE... (Max Ophüls)
58 BLADE RUNNER (Ridley Scott)
59 THROUGH THE OLIVE TREES (Abbas Kiarostami)
60 LES ENFANTS DU PARADIS (Marcel Carné)
61 BRINGING UP BABY (Howard Hawks)
62 SINGIN' IN THE RAIN (Stanley Donen)
63 JOHNNY GUITAR (Nicholas Ray)
64 A CLOCKWORK ORANGE (Stanley Kubrick)
65 MEMORIES OF UNDERDEVELOPMENT (Tomás Gutiérrez Alea)
66 M (Fritz Lang)
67 SCORPIO RISING (Kenneth Anger)
68 PSYCHO (Alfred Hitchcock)
69 DUST IN THE WIND (Hou Hsiao-Hsien)
70 SCHINDLER'S LIST (Steven Spielberg)
71 NASHVILLE (Robert Altman)
72 CROUCHING TIGER, HIDDEN DRAGON (Ang Lee)
73 WAVELENGTH (Michael Snow)
74 JULES ET JIM (François Truffaut)
75 CHRONIQUE D'UN ÉTÉ (Edgar Morin and Jean Rouch)
76 THE LIVES OF OTHERS (Florian Henckel von Donnersmarck)
77 GREED (Erich von Stroheim)
78 SOME LIKE IT HOT (Billy Wilder)
79 JAWS (Steven Spielberg)
80 ANNIE HALL (Woody Allen)
81 THE BIRTH OF A NATION (D.W. Griffith)
82 CHUNGKING EXPRESS (Wong Kar Wai)
83 LA NOIRE DE... (Ousmane Sembene)
84 RAGING BULL (Martin Scorsese)
85 THE MALTESE FALCON (John Huston)
86 CHINATOWN (Roman Polanski)
87 ANDREI RUBLEV (Andrei Tarkovsky)
88 WINGS OF DESIRE (Wim Wenders)
89 VIDEODROME (David Cronenberg)
90 WRITTEN ON THE WIND (Douglas Sirk)
91 THE THIRD MAN (Carol Reed)
92 BLUE VELVET (David Lynch)
93 THE GOOD, THE BAD AND THE UGLY (Sergio Leone)
94 BREAKING THE WAVES (Lars von Trier)
95 A NOS AMOURS (Maurice Pialat)
96 CLEO DE 5 A 7 (Agnès Varda)
97 ALL ABOUT MY MOTHER (Pedro Almodóvar)
98 EARTH (Aleksandr Dovzhenko)
99 OLDBOY (Park Chan-wook)
100 PLAYTIME (Jacques Tati)
Skews a bit more serious than Yahoo's list of the 100 Movies to See Before You Die, huh?
Here's some more information about the list on the list from the official site.
It all began with a list. The Essential 100, announced last year, was an attempt to find new meaning in the ever-present practice of list-making around film. By combining one list forged by our TIFF experts and the results of a wide survey, we sought a canon that reflected the ethos of our organization and its key component parts, especially TIFF Cinematheque and the Toronto International Film Festival®, which are respectively celebrating their 20th and 35th anniversaries this year. It's a bit kooky – with Jean Renoir and George Lucas cuddling up with 1928's La Passion de Jeanne d'Arc a top a list that also includes several films made in the last five years – but it's an honest reflection of the dynamic push-pull between audience and programmer that makes what we dohere so interesting.
The Essential Cinema Exhibition is both an extrapolation of and commentary on this list, transforming it into a gallery based experience, which we put together with New York-based curator Michael Connor and designers Barr Gilmore and Michel Arcand. It is structured into three principal parts. A Wunderkammer, or cabinet of curiosities room, in our main gallery is filled with artifacts of cinema: objects, photos, posters, clips, sound and art that illustrate why these films are iconic. Four new commissions, our first such project since the Festival's 25th Anniversary Preludes in 2000, see filmmakers and artists comment on the idea of the film list. And our Future Projections programme, which is devoted this year to the Essential 100, features installations that directly relate to individual films or filmmakers on the list. As always, Future Projections occurs through the grace of our partners, including galleries and other major public institutions here in Toronto. It is gratifying to have so much support from our city's cultural leaders as we launch our new home.
Let the debate begin! What belongs, what doesn't, what is higher than you thought? What about lower? How many have you actually seen?