'Limitless' Trailer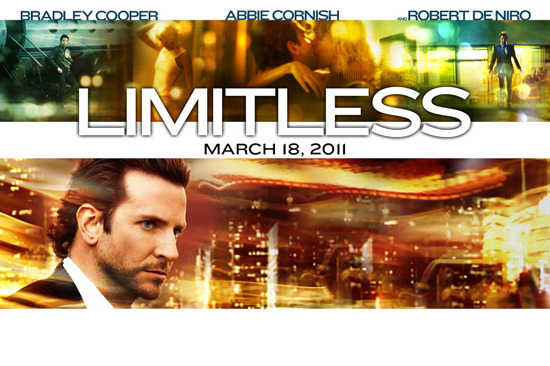 The last time we heard from Neil Burger's new film Limitless (formerly called Dark Fields) Bradley Cooper was shilling a fake wonder drug called NZT in a slick infomercial. (And then a sample of NZT actually arrived at my house. Nope, didn't try it.)
Now there's a trailer for the film, in which Bradley Cooper plays a guy who is introduced to a drug that will unlock all the potential of the human mind. He becomes a powerhouse. It's like the superhero film for stockbrokers, but there's a real downside. Watch it after the break.
See the trailer in HD at Apple.
First up, nice to see Robert De Niro's work here, as it's been too rare in the last few years that he increased my desire to see a film. There's a Fight Club vibe in this trailer, too, though whether that's just the trailer edit or the actual film remains to be seen. And I do like the paranoid angle; curious to see how that plays out.
Neil Burger directs Limitless from a script by Leslie Dixon. The film stars Bradley Cooper, Abbie Cornish, Robert De Niro and Anna Friel, and opens on March 18, 2011.
Bradley Cooper and Robert De Niro star in Limitless, a paranoia-fueled action thriller about an unpublished writer whose life is transformed by a top-secret smart drug that allows him to use 100% of his brain and become a perfect version of himself. His enhanced abilities soon attract shadowy forces that threaten his new life in this darkly comic and provocative film.