'Rango' Trailer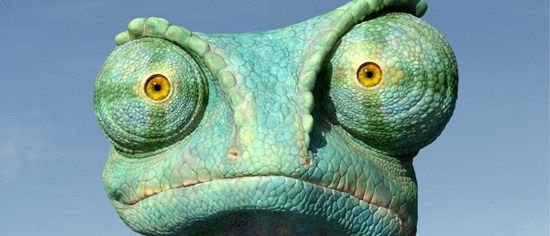 We've seen an announcement clip and a teaser trailer for Gore Verbinski's animated film Rango, which features Johnny Depp voicing a strange little chameleon lost in the desert of the American southwest.
Now there's a full trailer, and you can see it after the break.
I'm still on board with this one. I liked the teaser and I like this trailer quite a bit. The designs look great, the dusty desert setting is gorgeous (and more than a bit reminiscent of Leone Westerns like Once Upon a Time in the West), and the sense of pacing and humor that made the first Pirates of the Caribbean work so well appears to be at work here. (It also reminds me a bit of the Oddworld game Stranger's Wrath.) I doubt Rango will be any sort of classic, but it looks like a good way to pass an afternoon.
Watch the trailer below, or check the HD version at Yahoo.
The synopsis is pretty simple:
The story of a chameleon with an identity crisis.
Rango is directed by Gore Verbinski from a script by John Logan. In addition to Johnny Depp, it features the voices of Alanna Ubach, Abigail Breslin, Isla Fisher, Alfred Molina, Ray Winstone, Harry Dean Stanton, and Ned Beatty. It hits theaters on March 18, 2011.