Casting Bits: Carey Mulligan In 'Shame,' Bryan Callen In 'The Hangover Part II,' Lily Collins In 'The Mortal Instruments' And Miles Elliot In 'Spider-Man'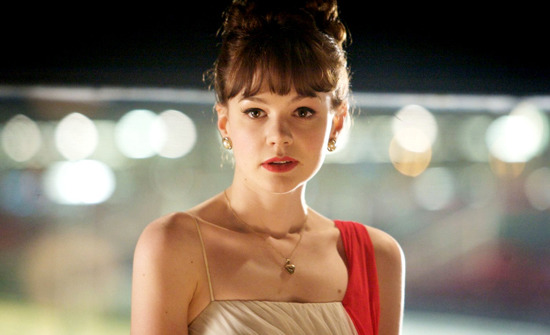 Steve McQueen and Michael Fassbender, who teamed once already for the excellent film Hunger, are gearing up to make Shame, about a man unable to manage his sex life. Now Carey Mulligan has joined the cast as the sister of Mr. Fassbender's character. That's all we've got right now, but the basic talent line-up and the subject matter, which seems to have a Palahniuk leaning, puts this high on my anticipated list for 2011. Shame shoots in New York in January. [Deadline]
After the break, more cast for The Hangover Part II and Spider-Man, as well as a star for the new series adapting novel series The Mortal Instruments.
The same Deadline piece that offered up news about Max Minghella joining George Clooney's The Ides of March also delivers a couple other useful nuggets:
Bryan Callen, who played the owner of the wedding chapel in The Hangover, is working again in The Hangover Part II, as "a smarmy strip club owner in Bangkok." We don't know if he's meant to be playing the same character, or if this is an all-new part. He was also in Old School from The Hangover director Todd Phillips.
And Lily Collins (The Blind Side, Priest) will star in the initial installment of a projected film series adapting Cassandra Clare's The Mortal Instruments novels. We don't know if the film will be called The Mortal Instruments, City of Bones (the name of the first book) or a mixture of the two. Lily Collins will play Clary Fray, who
discovers she can see supernatural beings that no one else can, gets drawn into the world of the Shadowhunters (teens who kill demons and monsters) and learns that her mother is somehow mysteriously connected to all the strange happenings around her.
Scott Charles Stewart directs. Place your bets now on this latest attempt to create a viable tween franchise — DVD shelves are littered with the abandoned first chapters of would-be series that aim to be the new Harry Potter or Twilight, and there are many more in various development pipelines.
Finally, the young Miles Elliot has been cast in Spider-Man as Billy Connors, the son of Dr. Curt Connors (Rhys Ifans). No indication of how much screen time he'll have, but I wouldn't expect too much. And will his life be in danger? Billy has a good run as a supporting character in the classic comics continuity, but pulling entries for the Spider-Man dead pool is starting to be fun. [SHH]