'The Walking Dead' Producers Deny And Clarify Reports Of Recent Staff Firings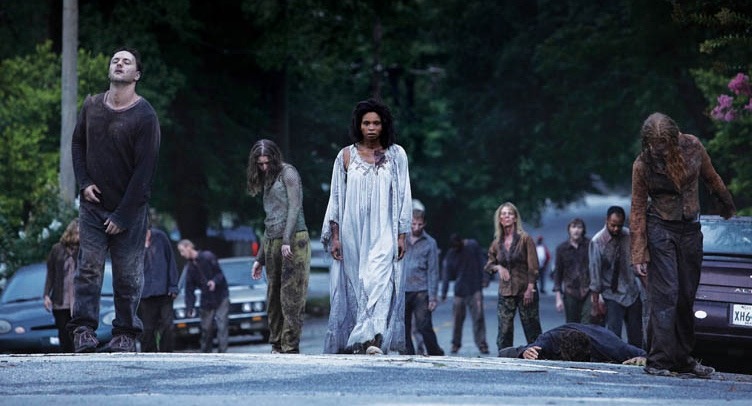 The first season of The Walking Dead ended last night (let's keep the comments spoiler-free for now, if possible) but the big news about the series came last week when there was a report that series creator Frank Darabont had fired the writing staff and planned to use freelancers to craft the second season. Now producer Gale Anne Hurd insists that reports of the demise of the writing staff are very much exaggerated. Comic series creator, producer and co-writer Robert Kirkman also chimes in.
Speaking to EW, Gale Anne Hurd says the entire principal cast is signed for multiple episodes, and that the report of firings is "completely inaccurate," explaining:
[In] the writers' room, there are people that have set up other projects that will be their first priority if their own series is picked up as a pilot or if it's a series. I think [Charles Eglee, reportedly fired] just decided that he wants to run his own show.
She hopes for the return of makeup guru Greg Nicotero, and says ""I think Frank [Darabont] and Robert [Kirkman, writer of the Walking Dead comic and an executive producer on the show] will sit down early next year, to begin mapping it out." An October premiere is possible, but there have been stories that we might not see season two until later.
Robert Kirkman had previously told EW,
There's been a little bit of behind the scenes stuff going on between the producers on the show and AMC, just figuring out when we're going to get started and how we are going to do things and what our overall plan for season two is. That kind of stuff has been going on. But I don't think any actual heavy work will be happening until after Christmas.
He also told TV Guide the initial announcement of firings was "unfortunate" and "premature," and that,
It's kind of unfortunate that it's being reported that our writing staff has been fired because that's not the case... It makes Frank look bad. I don't think Frank wants it out there that he's just firing people off of a successful show seemingly for no reason.
He alludes to some level of conflict between Charles Eglee and Frank Darabont. He says Eglee came onto the show expecting to become showrunner after the first season. But when Frank Darabont decided to stay on, Eglee thought it was time to move on to a project he could control, which dovetails with Gale Anne Hurd's comment above. He also says,
It's a little premature to be nailing down. I don't know if it's going to be a freelance situation or if we're going to have writers in a writers' room. That's something that's being worked on now.
So there's a bit of conflict between official reports. All AMC has confirmed is that some writing staff changes will occur, but that could only be with respect to Charles Eglee. More as it comes out.