Ben Hibon, Director Of 'Harry Potter' Animated Sequence, To Helm 'Pan'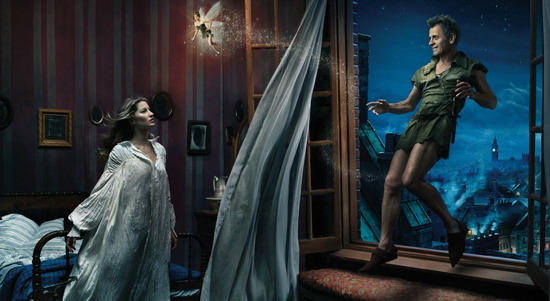 One of the most striking and surprising aspects of Harry Potter and the Deathly Hallows, Part I was the third-act animated sequence that explains the backstory of the Deathly Hallows. It's a stylish and appropriately ominous piece of film. Now the director of that sequence, Ben Hibon, is set to direct a "fantasy action thriller" reworking of Peter Pan called, appropriately, Pan.
Variety has the news, reminding that Ben Magid's original script was once intended for Guillermo del Toro to direct. (Which we last mentioned when Mr. Magid's script Invasion sold to Summit. He also wrote a draft of Hack/Slash.)
Presumably this will be a live-action effort; the trade says casting is under way for a Fall 2011 shoot in Europe. (Casting now for Fall 2011? Hm. That's a long lead.) Ben Hibon also has a background in video games, having done in-game sequences for the crazy Killer 7 and work related to Heavenly Sword. He also directed the short Codehunters.
The script for Pan uses, as we've explained in the past, a dark spin on J.M. Barrie's tale of Peter Pan, where Pan is a villain being hunted by a police captain named Hook. There's nothing there that sounds too appealing on the surface, but the fact that the script has continued to generate interest over the past few years suggests there might be something more to it than the basic recap would suggest.
The director also recently bought the option to Richard Harland's steampunk novel Worldshaker, which he'd like to direct. Here's the recap of that novel:
Colbert Porpentine is in line to be the future supreme commander of Worldshaker, a huge roving community, more than two miles long and nearly one mile wide, that will have steampunk fans thinking of Philip Reeve's Mortal Engines. Col's refined life as an Upper Deck citizen is shaken when Riff, a Filthy from below decks, escapes, and he finds her hidden in his room. Through Riff and her fellow Revolutionaries, Col expands his naive understanding of his high society's practices, especially the injustices and cruelties that Upper Deck folks commit against the Menials, Filthies, and even the native villagers Upper Decker people pillage from and crush under their ship. This is a fine introduction to science fiction for young teens, both male and female, with its intriguing world building, strong characters, and an exciting plot that—though far from subtle in message—will leave teens thinking about perceptions and prejudices and the weight of leadership.
(image from Annie Leibovitz's collection of Disney fairytale reimaginings)