Movie Trailer #2: The Delayed 'Season Of The Witch'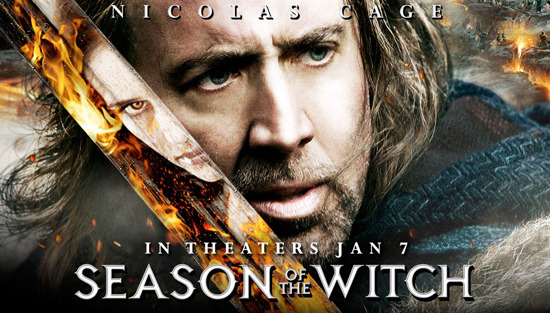 Almost exactly a year ago we got the first full trailer for Season of the Witch, then a LionsGate film starring Nicolas Cage. The film still stars Nic Cage, but is now being distributed by Relativity Media, which also financed the film's production. The company has cut a new trailer to begin promoting the January 7 release, and it is a completely different beast from the previous one.
When LionsGate advertised the film it looked like a cheesefest — maybe a fun cheesefest — with a strong horror tone. Now the film is made to look more like a minor period adventure epic with a supernatural bent. There's more of a sense of capital-H history here, even though I expect there's very little actual historical basis for this story beyond the basic existence of the Crusades and plague. And it still looks like a cheesefest. (One I'm definitely going to see, too.)
Apple offers up this synopsis and and HD version of the trailer:
Oscar(r) winner Nicolas Cage (National Treasure, Ghost Rider) and Ron Perlman (Hellboy, Hellboy II, Sons of Anarchy) star in this supernatural action adventure about a heroic Crusader and his closest friend who return home after decades of fierce fighting, only to find their world destroyed by the Plague. The church elders, convinced that a girl accused of being a witch is responsible for the devastation, command the two to transport the strange girl to a remote monastery where monks will perform an ancient ritual to rid the land of her curse. They embark on a harrowing, action-filled journey that will test their strength and courage as they discover the girl's dark secret and find themselves battling a terrifyingly powerful force that will determine the fate of the world.
Season of the Witch is directed by Dominic Sena with Nicolas Cage, Ron Perlman, Stephen Campbell Moore, Claire Foy, Stephen Graham, Ulrich Thomsen, and Christopher Lee.
And here, for the sake of comparison is the year-old LionsGate trailer: