Movie Trailer: 'Winnie The Pooh'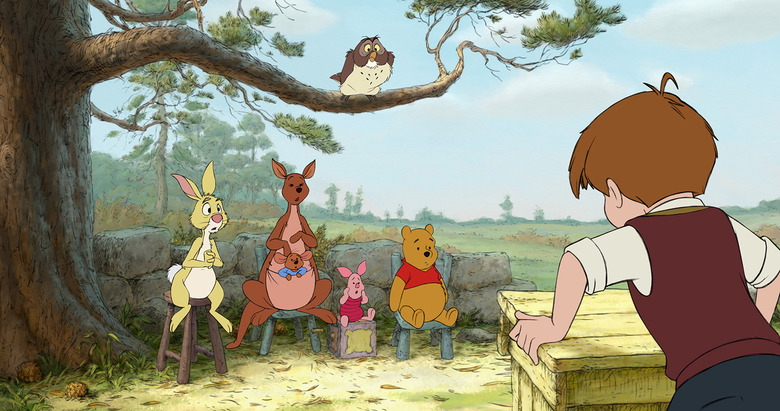 Yesterday we saw a couple first images from Disney's new mostly hand-drawn Winnie the Pooh, but what we didn't know at the time was that a trailer is floating around, too. Check it out after the break.
Too bad we hadn't realized this trailer was out there when posting the first images from the film yesterday, because there's not much more to say other than that this looks like a simple, lovely Winnie the Pooh story. If I had kids I'd take them to see this in a second, and probably enjoy the film myself, and isn't that the whole idea here?
The voice work sounds good; I like Craig Ferguson's voicing of owl. And while I'm not wild about the CGI honey, the rest of the film looks so nicely drawn that it's not a big deal. (Thanks to The Film Stage for pointing out the trailer.)
Recapping the basic info:
Jim Cummings (Pooh and Tigger), Craig Ferguson (Owl), Tom Kenny (Rabbit), Travis Oates, and Bud Luckey are among the voice cast, and Zooey Deschanel sings a new version of the Pooh theme. Stephen J. Anderson (Meet the Robinsons, Journey Beneath the Sea) and Don Hall co-direct with Disney veteran Burny Mattinson, who was an animator on 1974?s Winnie the Pooh and Tigger Too!, serving as senior story artist. Five of A.A.  Milne's stories were drawn upon as inspiration for the script.
Walt Disney Animation Studios returns to the Hundred Acre Wood with "Winnie the Pooh," the first big-screen Pooh adventure from Disney animation in more than 35 years. With the charm, wit and whimsy of the original featurettes, this all-new movie reunites audiences with the philosophical "bear of very little brain" and friends Tigger, Rabbit, Piglet, Kanga, Roo—and last, but certainly not least, Eeyore, who has lost his tail. "Well a tail is either there or it isn't there," said Pooh. "And yours isn't... there." Owl sends the whole gang on a wild quest to save Christopher Robin from an imaginary culprit. It turns out to be a very busy day for a bear who simply set out to find some hunny. Inspired by five stories from A.A. Milne's books in Disney's classic, hand-drawn art style, "Winnie the Pooh" hits theaters July 15, 2011.