Bruce Willis, Edward Norton, Frances McDormand And More In Talks For Wes Anderson's 'Moon Rise Kingdom'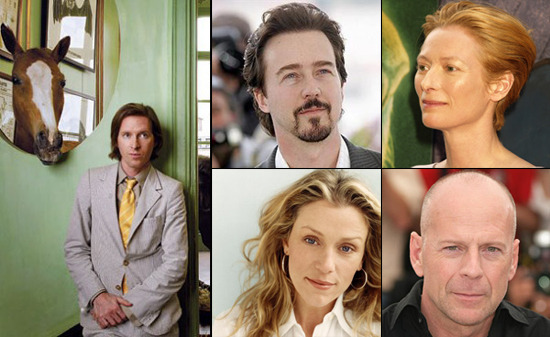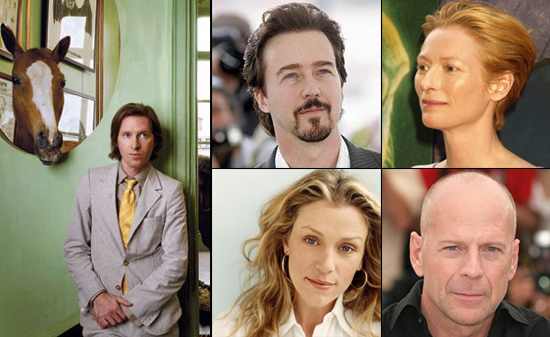 It's been a slow couple of days for really significant news, but here's something you can chew on: Wes Anderson's next film, Moon Rise Kingdom (previously written without a space in 'moonrise') is starting to line up a rather unusual and potentially very impressive cast. Bruce Willis, Edward Norton, Bill Murray, Frances McDormand and Tilda Swinton are the names we have right now. Along with the report that each is in talks for the project, we've finally got substantial details on what the film might be.
Deadline says that the script was written by Wes Anderson and Roman Coppola (who also co-wrote The Darjeeling Limited) and the film is scheduled to shoot in late spring, 2011. Funding is still coming together, but this is Wes Anderson. Between his recognizance and the preemptive cast, I wouldn't expect many hangups on the financial side.
Of Moon Rise Kingdom, Deadline offers the following details, some of which may cause spoiler-phobes to recoil in horror:
[The film] is set in the 60s. Two young adults fall in love and run away. Leaders in their New England town are sticking the idea that they've disappeared and go in search of them. Norton will play a scout leader who brings his charges on a search. Willis is in talks to play the town sheriff who's also looking, and who is having an affair with the missing girl's mother, the role McDormand is in talks to play. Murray, a regular in Anderson films, will play the girl's father, who has his own issues.
Things that stick out immediately: I'm glad to see the filmmaker setting a story in the 1960s instead of bringing that period's style forward into decades beyond. And there are still family issues at play, but at this point let's take it for granted that Wes Anderson is never going to eliminate that as a theme, and hope for a treatment that will feel like an extension of what he's already done, rather than a retread.
And that cast: lovely to see Bill Murray returning, but it's the other quartet that sounds delightful. On the rare occasions when Bruce Willis works with very specific directors he can do good work. And Wes Anderson directing Frances McDormand and Edward Norton? Oh, yes.