Movie Trailer: The Intense Gothic Suspense Of 'Jane Eyre'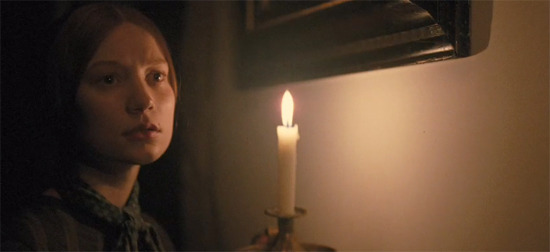 Yesterday we showed you a new poster and synopsis for the new version of Jane Eyre directed by Cary Fukunaga (Sin Nombre). And I understand that a lot of people might think, oh, great, Jane Eyre. Groan. Another dull, hidebound literary adaptation.
If that's the way you were looking at this movie, please give this trailer a chance. Granted, it may deliberately be trying to sell one vision of the film. But if nothing else, the first minute of this debut look at Jane Eyre — in fact the whole trailer — promises that it is not the movie you think it is.
I believe I just shocked those working quietly near me when, about 25 seconds into this trailer, a fireplace vomited a great cloud of ash onto a young Jane and then a snippet of Goblin's Suspiria score kicked in. I gasped 'holy shit!' rather loudly. Very loud, in fact. The tinkling, breathy opening of the main theme from Suspiria, a piece of music that has never failed to make the hair on my neck stand on end, is the last thing I expected to hear in this trailer.
So: point made. From the doom-laden opening moments depicting the young Jane's mistreatment in her youth to the creeping gothic suspense and uncertain romance that develops between a grown Jane (Mia Wasikowska) and her employer Rochester (Michael Fassbender), this looks like a film that could toe an admirable line between being faithful to the novel and feeling quite modern at the same time. Whether it will retain the social criticism of the book (likely) and the themes of morality and religion (hopeful) is yet to be seen.
What we can say now is that Jane Eyre looks wonderful (thanks in part to cinematographer Adriano Goldman, who also shot City of Men and Sin Nombre) and quite intense. And just look at the black, shiny eyes of Michael Fassbender in his last shot. Shivers. Can't wait. Focus Features opens the film on March 11, 2011.
Yahoo has the trailer in HD.