New 'Batman Live' Details Revealed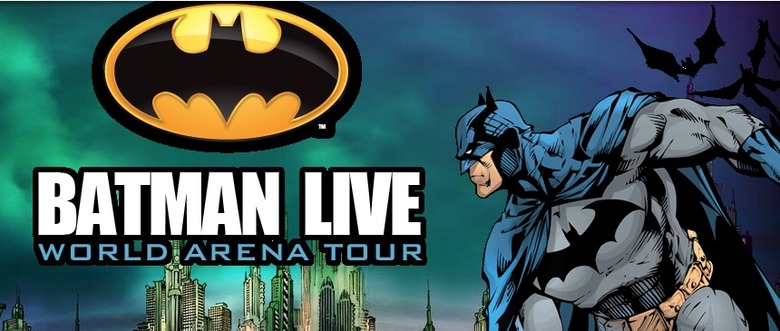 In April it was announced that Warner Bros and DC Comics were developing a Batman live stage tour, produced by Nick Grace Management and Water Lane Prods., the companies behind the popular/amazing Walking With Dinosaurs stage shows. At the time we were told that it wouldn't be a cheesy musical, but instead "an elaborate arena production aimed at kids and families" with a script by Alan Burnett and Stan Berkowitz, whose credits include both the Batman and Superman animated television shows as well as Justice League: The New Frontier animated movie.
At the time, the story was being kept under wraps, but with tickets set to give on sale later this week (November 12th) for the July 20th 2011 opening in Manchester, we're beginning to learn more details.
Broadway World is reporting that the arena tour will begin in UK and Europe in summer 2011 (Opening in Manchester on 20th July 2011 and visiting Newcastle, Glasgow, Sheffield, Birmingham, London, Liverpool, Nottingham, Dublin and Belfast) and arrive in North America by summer 2012. The story calls the show a "visually stunning production, complete with a brand new original storyline" and says it "will feature impressive stunts, pyrotechnics, illusions and video screen sequences." Here is information from the official website:
Based on an original story being created exclusively for the show, BATMAN LIVE is a theatrical extravaganza of thrilling stunts, acrobatic acts and illusions. Never before has Gotham City, Wayne Manor, the Batcave and Arkham Asylum been brought to life on stage in a more visually exciting way. Join Batman and Robin as they battle their nemesis The Joker and other super-villains such as The Riddler, Catwoman, The Penguin, Two-Face and Harley Quinn, set on destroying Gotham City. entic, bold and awe-inspiring, BATMAN LIVE will be a completely new way to experience the world of Batman. This is one adventure you do not want to miss!
And here is the official image artwork from the website: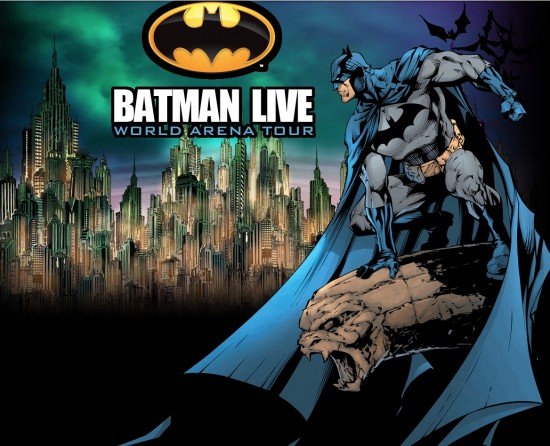 The article also gives us a look at some of the other creatives involved with the project:
BATMAN LIVE is based on an original story being created exclusively for the show. Creative Director is Anthony Van Laast and Co-Director, James Powell. Set design by Es Devlin, music composed by James Brett, sound design by Simon Baker, lighting design by Patrick Woodroffe, video direction by Sam Pattinson, costume design by Jack Galloway. Circus sequences created, produced and managed in association with Circus Space with Bryan Donaldson and Juliette Hardy-Donaldson as circus consultants.
This background image from a secret twitter account shows some concept sketches and a list of characters and locations featured in the show: