Movie Trailer: 'Big Mommas: Like Father, Like Son'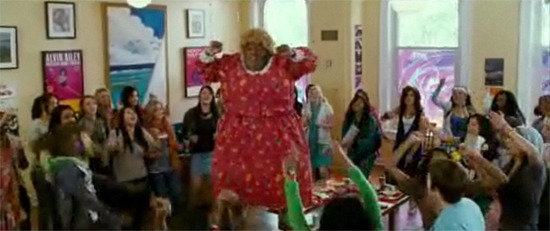 Martin Lawrence is back in the female fat suit for Big Mommas: Like Father, Like Son, and he's got Tropic Thunder's Brandon T. Jackson suited up alongside him. There's a trailer for the film after the break, and I dare you to watch it.
The first Big Momma's House came out in 2000, but this trailer plays as if a middle-school student wrote a comedy script in the mid-'90s and threw it into a time capsule. Dick and ball-punch jokes are to be expected, as is a cringe-inducing 'romantic' subplot or two. But that oh-so-timely one/two punch of 'Whoomp! (There it is)' and Mary J. Bulge gags puts this beyond even the Gulliver's Travels trailer on the pain scale.
A great deal of this movie was shot down the street from my house (the girls' school in the film is actually Agnes Scott College in Decatur, GA) and I'm sad that it'll be a while before I can drive by without thinking of this movie. I guess that's the pain that people in Vancouver feel every time they see Rumble in the Bronx.
Here's the synopsis:
In this third entry into the "Big Momma's House" series, FBI agent Martin Lawrence's cross-dressing alter-ego, Big Momma, heads to an all-girls school with his stepson, Trent (Brandon T. Jackson), in order to hunt down a murderer.
Big Mommas: Like Father, Like Son will leave a crater in theaters on February 18. Directed by John Whitesell, it stars Martin Lawrence, Brandon T. Jackson, Jessica Lucas, Faizon Love, Emily Rios, Portia Doubleday and Michelle Ang.