Aaron Sorkin & Danny Elfman Writing 'Houdini' Musical For Hugh Jackman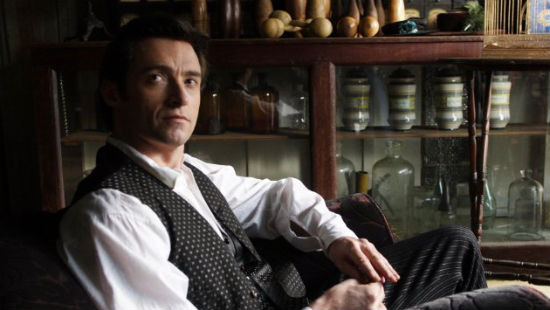 Though he probably won't be cloning and killing himself every single night, Hugh Jackman could soon be portraying another type of risky entertainer. He's set to star in a Broadway musical based on the life of Houdini written by Aaron Sorkin with music by Danny Elfman, lyrics by Glenn Slater and direction by Jack O'Brien. The first two names are huge one for film fans; Sorkin most recently wrote The Social Network and Danny Elfman really needs no introduction. The second two are certainly more stage guys; Slater did lyrics for The Little Mermaid and Love Never Dies, the Phantom of the Opera sequel, while O'Brien not only directed that show but the upcoming Catch Me If You Can adaptation too.
So when will Jackman hit the stage as the master escape artist? Even though the musical has been in the works for two years, it still might be a while. There's more info after the jump.
In an interview with Entertainment Weekly, Elfman explains the huge difference between writing a musical and a movie:
I've written music on and off for two years already. It's such a different process [from my film scoring work]. For me, it's taking forever. But other people say, 'Oh, no, you've only been on that a couple of years, that's nothing!'
The composer, best known for his frequent collaborations with director Tim Burton, met in New York last week with all the principals mentioned above (minus Jackman) and said the latest on the project is that Sorkin is still writing the script. They have a table read scheduled in January and, depending on how that goes, the musical could jump into production immediately or – more likely – see the spotlight sometime in 2012.
I'm just trying to go with it and learn. Hopefully [the show] will happen, but I know that there are so many things that need to still happen, and reasons why it may or may not. I just try to take an attitude of, 'If it happens, great, and if it doesn't, I'll have learned what it's like working on a Broadway musical.'
Putting together a Broadway show is so radically different from making a movie because, once you put on a show, it's a living, breathing thing. And by nature, living things are always changing but never endure. Shows are different minute to minute and day by day, and could either close in the course of a week if reviews or ticket sales are bad, or run for years and years if they are really good. And even then, once it's done, it's never the same. Casts change, props change, and new shows always have to wait for proper theaters to be vacated by previous shows. It's a whole new world with a totally unique set of problems from making a film. Fortunately, it's a world the Tony award-winning Jackman is quite familiar and one that it's exciting Sorkin and Elfman are getting into.
Which of those three collaborators excite you most with the participation? And would you go out of your way to see this musical on Broadway?