Leonardo DiCaprio To Play Serial Killer In Adaptation Of 'The Devil In The White City'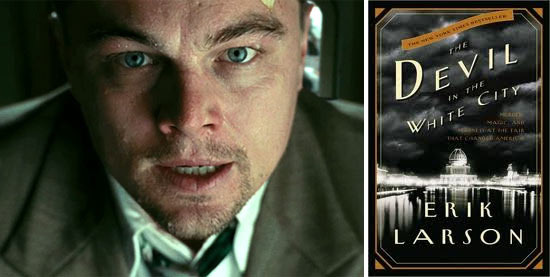 Leonardo DiCaprio is an actor who consistently aims to challenge himself with weighty, Oscar-caliber roles, and his next few films promise more of the same. He's shooting Hoover, Clint Eastwood's FBI chief J. Edgar Hoover biopic, in the coming year, and he's rumored to be starring in Baz Luhrmann's adaptation of The Great Gatsby. Now he's developing a film that offers another complex character for him to tackle: an adaptation of The Devil in the White City: Murder, Magic And Madness At The Fair That Changed America, the 2003 non-fiction book (presented in novelistic form) that juxtaposes an account of the planning and staging of the 1893 World's Fair in Chicago with one of America's first serial killers, who used the fair to lure young women to his elaborately constructed "Murder Castle."Deadline says that DiCaprio's production company Appian Way has teamed up with Double Features to get the screen rights to the book, with DiCaprio set to play Dr. HH Holmes, the serial killer who's believed to have been responsible for anywhere from 27 to 200 murders. The other pivotal role in the story is Daniel Burnham, the chief architect behind the fair that served to celebrate the nation's growth.
DiCaprio seems perfect to play Dr. HH Holmes, with Deadline describing him as a sociopath who "used charm and guile to lure guests into what became known as a 'murder castle,' a haunt that had a gas chamber, crematorium and a dissecting table where Holmes would murder his victims and strip their skeletons to sell for medical and scientific study." That's deeply disturbing, and while DiCaprio has an inherent magnetism that makes him a clear fit to play a charming womanizer, he also has an underlying creepiness that he taps into all too rarely. (Though he has displayed a fair bit of psychosis in Shutter Island and The Aviator, among other films.)
Jennifer Killoran, DiCaprio's Appian Way partner, declared the book "truly a one-of-its-kind American story about our nation's first serial killer. We're excited to bring it to the big screen." Double Features' partners Michael Shamberg and Stacey Sher, meanwhile, are confident in the film's mainstream potential, describing it as "a big, entertaining thriller in an incredible setting that will appeal to worldwide audience."
This isn't the first time DiCaprio has attempted to give this story the cinematic treatment. Originally, Tom Cruise had optioned the rights to the book, and was planning on playing the killer. DiCaprio was also set on portraying that role, so he set up a rival project, relying on public domain to tell the story of the nation's first documented serial killer. No need for that now though, as they snagged the rights to the book as soon as they became available. They plan to make a deal with a studio only after hiring a writer and putting together a package.
Here's a synopsis of the book:
Bringing Chicago circa 1893 to vivid life, Erik Larson's spellbinding bestseller intertwines the true tale of two men–the brilliant architect behind the legendary 1893 World's Fair, striving to secure America's place in the world; and the cunning serial killer who used the fair to lure his victims to their death. Combining meticulous research with nail-biting storytelling, Erik Larson has crafted a narrative with all the wonder of newly discovered history and the thrills of the best fiction.