Toys Reveal The Design For Frost Giants In 'Thor'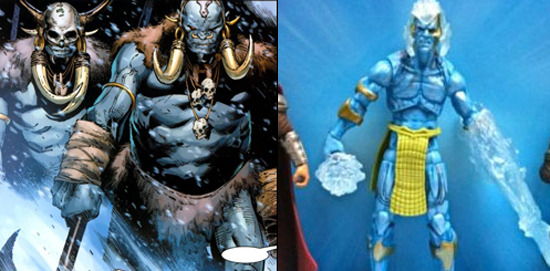 Nothing like getting a peek at characters from an upcoming film by seeing the toys made from the license. But that's the way it often goes with superhero films, and the latest peek at a toy and character combo is the Frost Giant from Kenneth Branagh's Thor.
Looking a little... Na'vi there, isn't he? There's some precedent for that. Some non-Marvel images of Norse frost giants show the characters looking more or less like Norse warriors (bearded helmeted, etc) with blue and white beards and skin. And the Marvel Wiki has an image of more monstrous-looking giants, also with blue skin. I look at this figure, tall, mulleted and loinclothed, and mostly see Na'vi.
But that's the problem with the action figure reveal. Those flanking toys, which are based on characters played by Anthony Hopkins and Tom Hiddleston, only bear passing resemblance to their inspiration, too. So don't get too worried yet that Thor is going to feature the Thunder God fighting for (or against) the Hometree. See a larger image, originally posted on eBay, after the break. [Marvelous News via Collider]
The Official Plot Synopsis:
Paramount Pictures and Marvel Entertainment present the epic adventure, "Thor," which spans the Marvel Universe from present day Earth to the realm of Asgard. At the center of the story is the mighty Thor (Chris Hemsworth), a powerful but arrogant warrior whose reckless actions reignite an ancient war. Thor is cast down to Earth by his father Odin (Anthony Hopkins) and is forced to live among humans. A beautiful, young scientist, Jane Foster (Natalie Portman), has a profound effect on Thor, as she ultimately becomes his first love. It's while here on Earth that Thor learns what it takes to be a true hero when the most dangerous villain of his world sends the darkest forces of Asgard to invade Earth.