First Look: Joseph Kahn's 'Detention'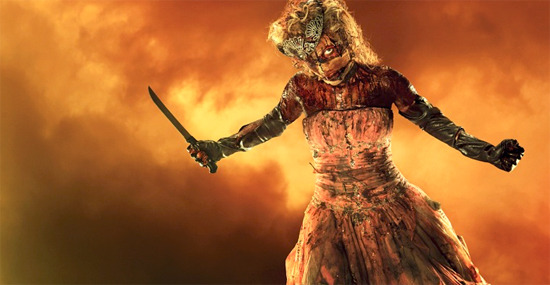 The last time we reported on Detention, Torque director Joseph Kahn's high school horror comedy with a sci-fi twist, there really wasn't much to report. We knew the director, the title, the basic idea, and that Josh Hutcherson and Dane Cook were among the cast.
By following Joseph Kahn on Twitter (an entertaining read) we've known he's got the film in the can now and is heading into post-production. Now the first images are out, along with a tiny bit of more substantive information about the film. And it sounds like the only high school horror comedy that could possibly stand up to the insanity of Torque.
io9 got the images and info. Here's the basic idea: Detention has been called "Back To The Future meets Scream, with a hefty dose of John Hughes teen movies." That's easy enough to throw out there, and it's kind of obvious nerd bait. One thing you love, plus one thing that was once good and one movie icon = great, right? Well, maybe. Especially since Joseph Kahn insists "Detention isn't really a horror comedy. It's kind of indescribable genre wise."
The site's rundown says the plot is basically about,
...a 17 year old who's given detention on the night of her senior prom, and then a fictional movie serial killer starts killing her friends. And somehow, there's a time-travel element.
At the head of the post is an image of Cinderhella, the fictional slasher within the film. Below is an image of Dane Cook in the film, and he looks almost unrecognizable. Blood has a tendency to do that. io9's interview has some good quotes from the director, as he talks about the advantage of a music video background being the training it gives with respect to being able to make a film quickly and on budget but also about how anger at "young psychopaths" like the Virginia Tech and Columbine shooters was what helped crystallize the film's story. That, combined with the face that Kahn doesn't characterize himself as a horror fan, leads me to wonder just what sort of film we're going to see.