First Look: 'The Lorax', Featuring The Voices Of Danny Devito, Ed Helms And Betty White
Looking only at live-action films such as The Cat in the Hat, you'd think the books of Dr. Seuss are better left to the page. But Chuck Jones has proved that animation, guided by a careful hand, is a fine way to bring the author's stories to the screen. Horton Hears a Who, directed by Jimmy Hayward and produced by Chris Meledandri, was a less than spectacular example of Theodor Geisel's work cranked through a bank of servers to create an animated feature.
Mr. Meledrandri's family division at Universal, Illusion Entertainment, is now making The Lorax, which we've now learned features Danny DeVito as the voice of the title character.
USA Today provides the photo and the cast list. Danny DeVito will be the Lorax, and Ed Helms will play the chief villain, The Once-ler, who chops down trees to make Thneeds, "the thing everyone needs."The Hangover's Rob Riggle plays a new character, an industrialist called O'Hare, who sells fresh air.
And Zac Efron will be Ted, an altered version of the boy that stars in the framing story in the Dr. Seuss book. Here, Ted goes looking for the Once-ler to discover how his world "became so ugly." And Betty White voices another new character, Ted's grandmother.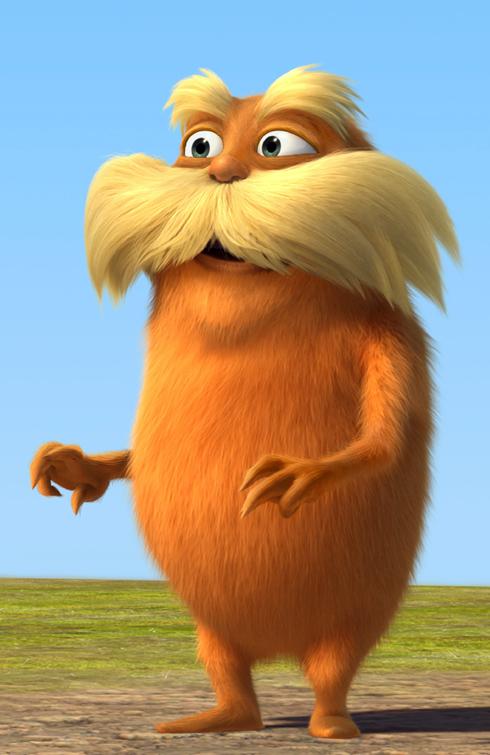 Previously:Dr. Suess first published The Lorax in 1971. The book features a story within a story, where a man called the Once-ler tells a boy how he was mesmerized by giant forests of tufted Triffula trees, and how he chopped one down to create an object that everyone needs. The Lorax emerges from the stump of the tree to protest the Once-ler's action, but soon the man is cutting down the entire forest to feed his business, and pollution reigns. But eventually the forest is gone and the Once-ler's business dies, and he's left with the Lorax among his decrepit factories. Not much ambiguity there, and the book has even faced opposition from the logging industry, which claimed that it was unfairly representing the business. That's worthy of note only because if Universal is going to sink a bajillion dollars into creating a family film based on the story they won't want any such controversy to spring up. Wonder if anything will be changed?
As with so many of the most notable Dr. Suess books, The Lorax has previously been adapted into animated form. The first version was a television special released in 1972, with production design by the great Maurice Noble and the voice talents of Eddie Albert and Bob Holt.