Jack Black And 'Hot Tub Time Machine' Director Steve Pink Developing 'How To Survive A Robot Uprising'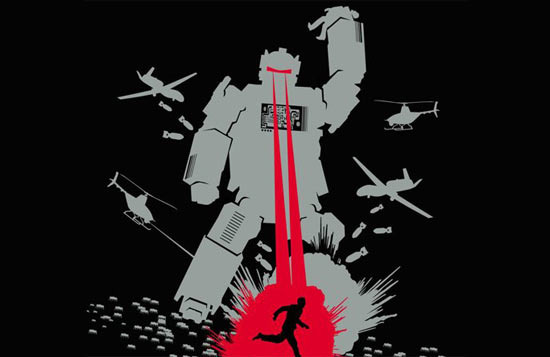 Earlier today, it was announced that Steven Spielberg would be officially directing Robopocalypse, based on Daniel H. Wilson's forthcoming novel about the fate of the human race following a robot uprising. But while humanity is being wiped out in that more serious-minded sci-fi project, Jack Black is going to be bringing a tongue-in-cheek edge to another adaptation of Wilson's work, the semi-satiric How to Survive a Robot Uprising. Learn more after the break.
io9 says Jack Black and Steve Pink (director of Accepted and Hot Tub Time Machine, and co-writer of Grosse Pointe Blank and High Fidelity) have gotten the rights to Wilson's book, which provides irreverent, deadpan insights into the current state of robotics, speculation about how robots could rebel against humans, and tips for survival in case such a thing were to occur.
Without any real narrative to work from, Pink (who's currently at work on the script) will need to incorporate the writings of the book into a story of his own devising. Considering the oft-used premise, I see great potential here for a genre parody of technology-gone-awry pics like Eagle Eye, I, Robot, The Terminator, 2001: A Space Odyssey, etc., potentially providing a satirical look at where our technology-obsessed culture is headed.
This is the second time someone has optioned the rights to the movie. Mike Myers was developing the film previously, from a script by Reno 911's Thomas Lennon and Robert Ben Garant. Black and Pink re-acquired the rights just recently. No word on whether Black will star in the film; they're waiting until the script is finished to work out the details.
Here's a description of the book by the author:
If popular culture has taught us anything, it is that someday mankind must face and destroy the growing robot menace. In print and on the big screen we have been deluged with scenarios of robot malfunction, misuse, and outright rebellion. Robots have descended on us from outer space, escaped from top-secret laboratories, and even traveled back in time to destroy us. Today, scientists are working hard to bring these artificial creations to life. In Japan, fuzzy little real robots are delivering much appreciated hug therapy to the elderly. Children are frolicking with smiling robot toys. It all seems so innocuous. And yet how could so many Hollywood scripts be wrong? So take no chances. Arm yourself with expert knowledge. For the sake of humanity, listen to serious advice from real robotics experts. How else will you survive the inevitable future in which robots rebel against their human masters?