TV Trailers: William H. Macy In 'Shameless'; US Adaptation Of 'Skins'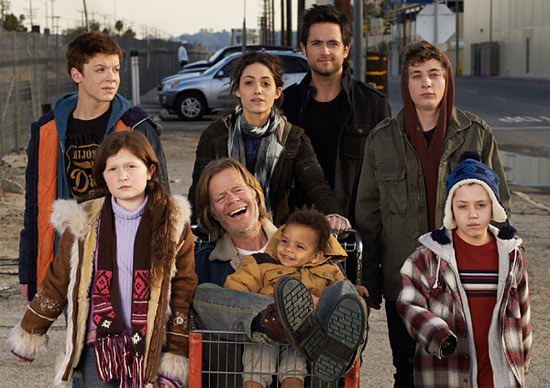 Two new TV trailers were released today, and coincidentally, both are for US adaptations of British TV series. The first is Shameless, Showtime's remake of the ongoing UK show (now in its eighth season) about an alcoholic single-father and his many children that he barely takes care of. Whereas the original series dealt with British underclass and working class culture, the American update has William H. Macy as the patriarch of a working-class Chicago family contending with the recession. Emmy Rossum plays the eldest daughter, who's tasked with holding the family together.
Developing the hour-long drama is The Company Men writer/director John Wells, who also wrote the pilot. In typical Showtime fashion, it seems like show has a touch of sleaziness to it, but that half is thankfully balanced out by what looks to be more dramatic, heartfelt character work at the center of it. It certainly has a lot of potential, and is probably a show worth keeping an eye on.
Watch the trailer for Shameless, as well as the spot for MTV's Skins, after the break.
[via Collider]
Next we have Skins, MTV's awful-looking remake of the trashy-yet-strangely-watchable Brit series about a group of teenagers who struggle to grow up and find happiness, and engage in all manner of drugs and unruly behavior to pass the time.
Watching this trailer, I can't understand why MTV would go to the trouble of adapting the show, when it probably would've been far more sensible (not to mention cost efficient) to just acquire the rights to air reruns of the original, and censor scenes where necessary. I assumed the entire point of remaking Skins was to translate the British culture into something that would better reflect American youth, but from the looks of it, they're just trying to replicate every aspect of it—the culture, the clothes, the rhythm, and on top of it all: every scene, line, and character. But sadly, none of the charm.
What do you guys think? Any Skins fans looking forward to this? How about Shameless?
[via The Live Feed]