Johnny Depp Reportedly Wants Rob Marshall To Direct Him In A New Version Of Dashiell Hammett's 'The Thin Man'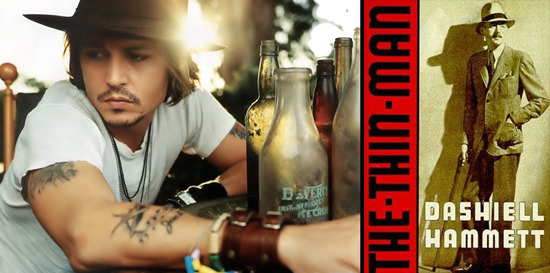 Who wants to see Johnny Depp solve a murder related to a family full of infighting crazies while getting sloshed at ten in the morning? According to a new report, the actor is angling to have his Pirates of the Caribbean: On Stranger Tides director Rob Marshall head up a new movie based on Dashiell Hammett's 1934 novel The Thin Man.
The Thin Man was originally filmed in '34 with William Powell and Myrna Loy starring as the alcoholic ex-detective Nick Charles and his young socialite wife Nora. That picture became an unlikely starting point for a film series. There were six Thin Man movies during the '30s and '40s, and a TV series in the '50s. The story has the Charles couple visiting New York City, where Nick is asked to help ferret out the truth about the murder of Julia Wolf, supposedly by Ms. Wolf's former boss and lover, who happens to be an old associate of Nick Charles.Vulture says that if this happens it won't happen soon, because there's no script. But Mr. Depp has reportedly wanted to make the movie for some time. Rob Marshall would be an interesting choice as director, but I'd like to see his Pirates movie before getting too excited. Take his period sensibility as seen in Chicago and Memoirs of a Geisha as a starting point, and I can imagine how this might go.UPDATE: Deadline says that Warner Bros. already has a shortlist of possible screenwriters, thanks to Johnny Depp's interest in the project. Terry Rossio, Jerry Stahl and Christopher McQuarrie are the current names on the list.
And why not a new version? The '34 film version is great — breezy, with great rapid-fire dialogue and ideal casting in William Powell and Myrna Loy — but owing to the production code of the time, some of the novel's more salacious suggestions were glossed over. And while there's a lot of hard drinking in the film, it's nothing compared to the book, in which Nora Charles often says "Nick, how about you stay sober today?" before her husband has another drink for breakfast.
Incidentally, the image above shows the original cover to The Thin Man, and that's Dashiell Hammett pictured. He was a detective for the Pinkerton Agency before he was a writer, and Nick Charles is partially based on his own experiences. In the trailer for the original film version, below, you can see William Powell as Charles/Hammett stepping right out of the book cover.