Martin Freeman Cast As Bilbo Baggins In 'The Hobbit?'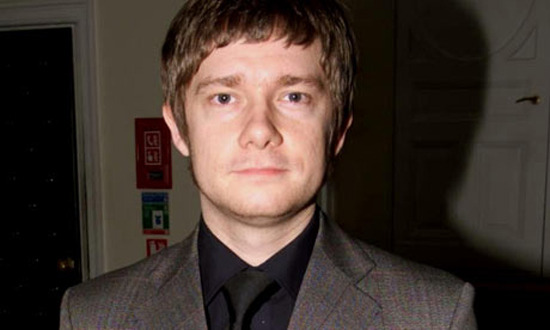 Last month, we reported that Martin Freeman, best known for starring roles in The Office, The Hitchhiker's Guide to the Galaxy and Sherlock was the first choice to play the lead role of Bilbo Baggins in The Hobbit. Well yesterday, after news broke that the film had finally been given a greenlight and would start shooting in February, reports came in that the actor was officially cast in the role made famous by Ian Holm in the original Lord of the Rings Trilogy. Jimmy Nesbitt (Bloody Sunday, Waking Ned Devine) was also reportedly cast while the same report said that Michael Fassbender (X-Men First Class, Inglourious Basterds) and David Tennant (Doctor Who) were also being courted by director Peter Jackson. There's more info after the jump.
UPDATE: When I wrote this story, I was unaware of the following press release, which I have published below. It negates a few of the paragraphs I originally wrote, which, I left untouched after the release.
OSCAR WINNER PETER JACKSON TO DIRECT "THE HOBBIT" IN TWO INSTALLMENTS
Peter Jackson Set to Direct J.R.R Tolkien's "The Hobbit" In a Two-Part 3D Production of Extraordinary Scope
(Los Angeles, October 15, 2010) The two films based on "The Hobbit" are now greenlit and will begin principal photography in February 2011, under the direction of Peter Jackson, it was jointly announced today by Toby Emmerich, President and Chief Operating Officer, New Line Cinema, Alan Horn, President and Chief Operating Officer, Warner Bros. and Steve Cooper, co-Chief Executive Officer of Metro-Goldwyn-Mayer Inc..
"Exploring Tolkien's Middle-earth goes way beyond a normal film-making experience" Jackson says, "It's an all-immersive journey into a very special place of imagination, beauty and drama. We're looking forward to re-entering this wondrous world with Gandalf and Bilbo – and our friends at New Line Cinema, Warner Brothers and MGM".
"Peter is a filmmaker of incomparable ability; having him return to Middle-earth to produce and direct is a dream come true. A true original, Peter is a gifted story-teller, visionary director and pioneer in film technology," said Emmerich. "Reuniting with Peter, Fran and Philippa truly makes it feel like we are going 'there and back again'."
"There is no human being on the planet as qualified as Peter Jackson to direct these films," said Horn. "Peter is incredibly talented and has the creative vision and experience to bring this beloved property to life in a way that no other filmmaker could. And the team of Fran Walsh and Philippa Boyens has proven through their work on the 'Lord of the Rings' trilogy that no one is more skilled at transforming Tolkien's written words into a vibrant, living language that makes the audience believe they are not merely visiting Middle-earth, but actually living in it. We couldn't be more thrilled and look forward to seeing "The Hobbit" take shape under Peter's stewardship and the team he is putting together."
"MGM is excited to move forward and add to the successful 'Lord of the Rings' franchise," said Cooper. "Under Peter's direction, the films will undoubtedly appeal to fans of the original 'LOTR' trilogy and also bring the stories to a new generation of fans."
Jackson, who directed all three "Lord of the Rings" films, will helm the two films back-to-back, telling the story of "The Hobbit" in two parts. Jackson will utilize groundbreaking visual effects and his incomparable story-telling to bring J.R.R. Tolkien's novel to the big screen. Both Hobbit movies will be filmed in Digital 3-D, using the latest camera and stereo technology to create a high quality, comfortable viewing experience. Jackson also co-wrote the screenplays with Fran Walsh, Phillipa Boyens and Guillermo del Toro.
"The Hobbit" is being co-produced by New Line Cinema and MGM, with New Line managing production, Warner Bros Pictures handling domestic distribution and MGM distributing internationally. Peter Jackson, Fran Walsh and Carolynne Cunningham are producing the films, with Phillipa Boyens as co-producer and Ken Kamins as executive producer.
The Oscar-winning, critically acclaimed LOTR trilogy grossed nearly $3 billion worldwide at the box office. In 2003, "Return of the King" swept the Academy Awards, winning all of the 11 categories in which it was nominated, including Best Picture – the first ever Best Picture win for a fantasy film. The trilogy's production was also unprecedented at the time.
The original story:
What's interesting to note here, and well reported by Russ in this story, is that every story about The Hobbit has a different spin on it, leading one to the realization that this is all still lucid. We have yet to hear anything official from "officially confirmed" director Peter Jackson and while the reports say that MGM would co-finance the film with Warner Brothers, MGM doesn't really have a home, or money, at this moment.
So, really, despite rumors that the films could cost $500 million, will be shot in 3D and all that good stuff, we are just keeping you updated on the latest rumors. I have a feeling when this is all said and done, while The Hobbit will get made, the behind the scenes struggles to get it made are going to be even more interesting that Bilbo's journey in the film. And it'll, potentially, make a fantastic extra on the Blu-ray.
Back to Martin Freeman as Bilbo, though. If you've seen his work in other productions – personally, I'm most familiar with him as Tim from The Office – he's an instantly lovable character with a subtle inner strength. That sounds like Bilbo to me. So, if it all works out, I think the casting is perfect. In regards to Nesbitt, Fassbender and Tennant, all are huge stars in their own right and would make great additions to the cast that already includes Ian McKellen and Andy Serkis reprising their roles as Gandalf and Gollum.
Do you agree with me about Freeman? What about this insanity that has been The Hobbit's path to the big screen?
Source: Deadline