Samuel Bayer Attached To Direct Comic Book Adaptation 'Tumor'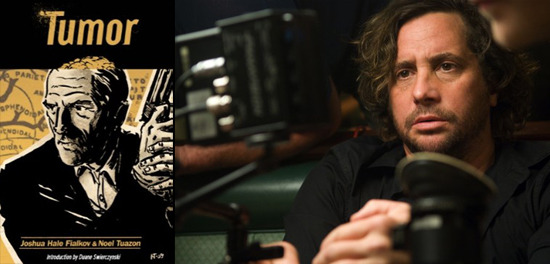 If there was a straight shot from first-timer helmer to director jail, it might look a lot like the remake of A Nightmare on Elm Street. Offering nothing that Wes Craven's original didn't deliver, and mistaking grave, put-on seriousness for import, the film was not the best debut for music video director Samuel Bayer.
Now Mr. Bayer is working on possible follow-up projects, and he's attached to Tumor, which would adapt the graphic novel / Kindle comic by Joshua Hale Fialkov and Noel Tuazon.
Variety says that Samuel Bayer is attached to direct the film. It is being put together by the company Red Crown, which designs to, as the trade says, "fill the niche for high-end specialty films."
Naturally, one of the best fits for that niche is an adaptation of a story about " the final mission of a failed private detective who suffers from an inoperable brain tumor that causes time-bending hallucinations."
Actually, that's not too bad, and it doesn't take a room full of production execs to see why there might be a movie in Tumor. A noir with an unreliable narrator who suffers from disorienting hallucinations: yeah. That could work. But given what we've already seen what Mr. Bayer puts together when given the run of a nightmare dreamscape, I'm not terribly optimistic.
Here's the rundown:
When Frank Armstrong, an elderly failed PI, is hired to find a drug boss's daughter, he sees a chance to redeem himself for failing to prevent his own wife's murder decades ago. Unfortunately, Frank's inoperable brain tumor means that his senses betray him so that he doesn't always know what year he's living in or whether he's walking down the gritty L.A. streets or lying flat on his back in a hospital bed. He's obviously dying; the question is whether he can pull himself together long enough to win moral salvation.
Here's a trailer for the comic, which was pointed out by Bleeding Cool: