Casting Bits: Mickey Rourke And Til Schweiger Join 'The Courier'; Alan Arkin To Star Alongside Jennifer Aniston In 'Buttercup'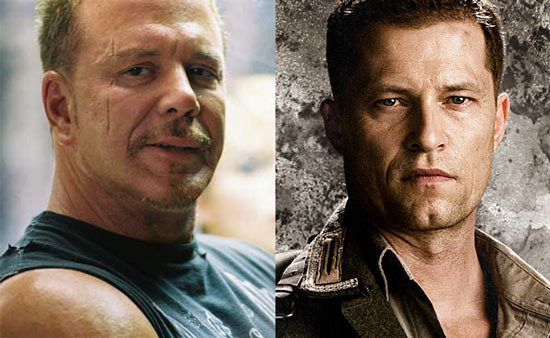 Writer/director Hany Abu-Assad tackled some pretty weighty subject matter with his 2005 film Paradise Now, a very well received drama about suicide bombers. For his latest picture though, the upcoming action/thriller The Courier, he's turned his focus to more audience-friendly fare. The film was written by Derek Haas and Michael Brandt (the team behind the 3:10 to Yuma remake and Wanted), and stars Jeffrey Dean Morgan as "a courier who has tackled dangerous assignments and never missed a drop. He's hired to deliver a briefcase to a notorious crime boss who can't be found. The courier finds himself pursued by corrupt cops, double-crossing feds and rivals from the criminal underworld."
Now Mickey Rourke and Til Schweiger (Inglourious Basterds) have joined the cast, with Schweiger playing an FBI agent and Rourke in an unspecified role. Additionally, Schweiger has also joined This Means War, McG's spy flick about two best friends (Chris Pine and Tom Hardy) who fall in love with the same woman (Reese Witherspoon).
I loved Morgan's work in Watchmen, and have been awaiting another stand-out performance from him. With this cast and director alongside him, The Courier may provide him an opportunity to live up to his potential—if not as a thespian, at least as an action star. [The Wrap, Variety]
After the break, Jennifer Aniston gets a dad in Buttercup.
We haven't reported on Buttercup, a dark indie dramedy starring Jennifer Aniston, but now with Alan Arkin (who won an Oscar a few years back for Little Miss Sunshine) sharing the spotlight, there's a much greater incentive. Arkin will play "a grossly irresponsible father who, in the wake of his wife's death, decides to get his life back on track with the help of his slightly neurotic daughter." Aniston will play the daughter, naturally, making for a father-daughter pairing that I'm quite curious to see play out.
There's some solid talent behind the screen, too, with Niki Caro (North Country, Whale Rider) directing from a script by first-time screenwriter Alice O'Neil. [The Wrap]