Casting Bits: Ray Liotta Joins David Wain's 'Wanderlust'; Alice Eve Replaces Margarita Levieva In 'ATM'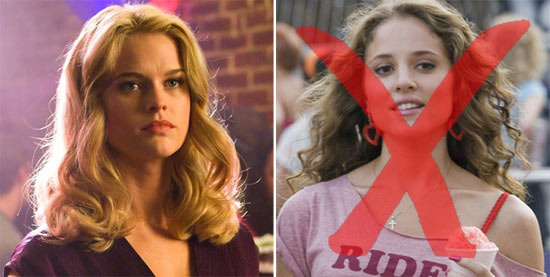 Wanderlust, the Paul Rudd and Jennifer Aniston comedy about a married couple who try to escape modern society and end up in a hippie commune, is really starting to come together. Much of the cast has already been set—first Justin Theroux (Mulholland Dr.) joined, then Six Feet Under's Lauren Ambrose hopped on board, and most recently Alan Alda and Malin Akerman were thrown into the mix—and now the always enjoyable Ray Liotta has been added to round out the group. No word on what the part entails, but I'm betting on him playing a stern, ill-tempered police officer who complicates things for our protagonists. Here's hoping he proves me wrong by getting cast against type this time around.
Judd Apatow is producing the film, along with Paul Rudd, David Wain and Ken Marino, the three of whom teamed up before on Wet Hot American Summer and Role Models. Wain is directing from a script he co-wrote with Marino. This pairing sold me from day one, and the cast certainly doesn't hurt. [The Hollywood Reporter]
After the break, the single-location thriller ATM gets a casting change.
ATM is best known as the follow-up effort from Buried screenwriter Chris Sparling, about three coworkers who — on a routine visit to an ATM — find themselves unable to escape as a large menacing man in a heavy hooded parka stands between them and their car. Casting of the coworkers already took place, citing the two male leads as Brian Geraghty (the Caucasian supporting lead in The Hurt Locker) and Josh Peck (the Drake & Josh star who has since proven his talent with The Wackness and Mean Creek), and the female lead as Margarita Levieva (the seductive Lisa P from Adventureland).
There's been a change though, and now Margarita Levieva is out, and Alice Eve is in. This probably isn't the most glamorous consolation prize for Alice Eve, who was at one point seen as a serious contender for two hot comic book properties (she was thought to be playing Emma Frost in X-Men: First Class, and was listed as the top pick for Peggy Carter in Captain America: The First Avenger). Nonetheless, she complements the cast nicely, and the project still sounds like a major step above most low-cost thriller fare. I'm excited to see what comes of it. [Winnipeg Free Press via Bloody Disgusting]