Thomas Haden Church Joins Cameron Crowe's We Bought A Zoo
We may receive a commission on purchases made from links.
Thomas Haden Church (Spider-Man 3, Sideways) has joined the cast of director Cameron Crowe's (Almost Famous, Jerry Maguire) adaptation of Benjamin Mee's bestselling memoir We Bought a Zoo.Variety reports that Church will join Matt Damon, who stars as Benjamin Mee, a widowed father who buys a dilapidated zoo in the English countryside. Looking for a fresh new start, Mee and his children hope to refurbish the zoo and run it as a family business. Amy Adams  is in talks to join the film.Previously:Almost Famous is one of my favorite movies of all time, and Cameron Crowe used to be one of my favorite writer/directors. It is not that the filmmaker had a huge fall from grace — I actually liked Elizabethtown more than most, despite Orlando Bloom's best efforts. It's that the filmmkaer is starting to become a distant memory. Aside 2005's Elizabethtown, which many would like to forget, and the filmmaker's few second cameo as a bus passenger in Steven Spielberg's Minority Report, Crowe hasn't been on the big screen since 2001's Open Your Eyes remake Vanilla Sky. For those who don't know, or maybe have forgotten, Crowe lived/wrote the book/screenplay for Fast Times at Ridgemont High, made his directorial debut with the 1980's classic Say Anything..., Singles, and Jerry Maguire, which was nominated for five Oscars including Best Picture.
For the past few years, Crowe has been trying to get his tropical romantic comedy Deep Tiki into production, but scheduling conflicts with the signed stars Ben Stiller and Reese Witherspoon (read about the plot here) keep pushing and pushing it back. Frankly, it never sounded too exciting to me — kind of like a modern day Joe and the Volcano, which I didn't like the first time around.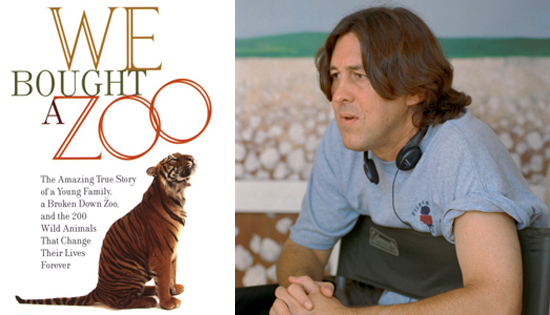 The full title of the book is "We Bought a Zoo: The Amazing True Story of a Young Family, a Broken Down Zoo, and the 200 Wild Animals that Changed Their Lives Forever". The 304-page book tells the remarkable true story of a family who move into a rundown zoo. Details after the jump.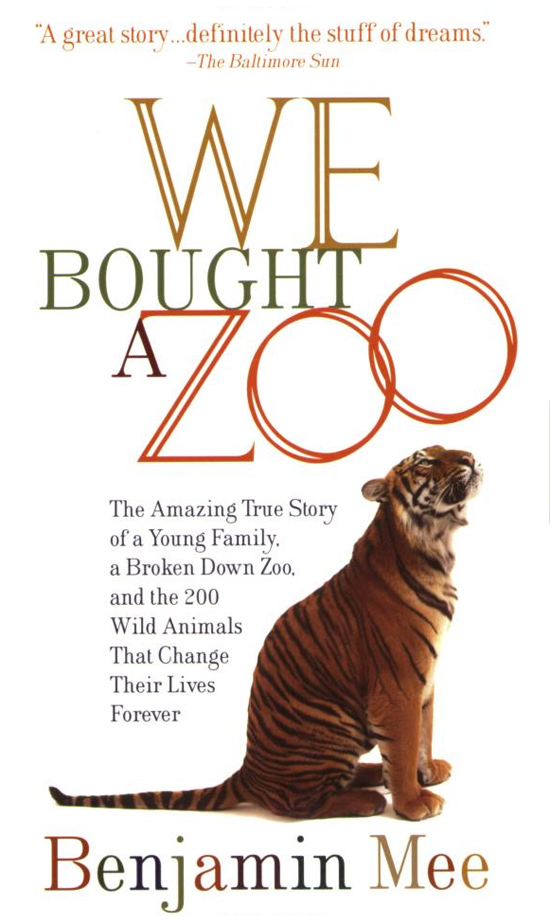 The official book description follows:
In the market for a house and an adventure, Benjamin Mee moved his family to an unlikely new home: a dilapidated zoo in the English countryside. Mee had a dream to refurbish the zoo and run it as a family business. His friends and colleagues thought he was crazy. But in 2006, Mee and his wife with their two children, his brother, and his 76-year-old mother moved into the Dartmoor Wildlife Park. Their extended family now included: Solomon, an African lion and scourge of the local golf course; Zak, the rickety Alpha wolf, a broadly benevolent dictator clinging to power; Ronnie, a Brazilian tapir, easily capable of killing a man, but hopelessly soppy; and Sovereign, a jaguar and would-be ninja, who has devised a long term escape plan and implemented it. Nothing was easy, given the family's lack of experience as zookeepers, and what follows is a magical exploration of the mysteries of the animal kingdom, the power of family, and the triumph of hope over tragedy. We Bought a Zoo is a profoundly moving portrait of an unforgettable family living in the most extraordinary circumstances.
The book is available in paperback for less than $6 on Amazon. Ben's story was the subject of a four part television documentary, entitled Ben's Zoo, which aired on BBC Two in November and December of 2007.
Zoo already has a screenplay written by Oscar-nominated Devil Wears Prada screenwriter Aline Brosh McKenna, but if Cameron were to direct, he would likely do some rewrite work. This project sounds a lot more like a Crowe project than Deep Tiki, although I kind of want to see Crowe return to his earlier days and do another coming of age film. I understand that he has grown up since Ridgemont High, Say Anything, Singles and Almost Famous, but I think he still has a lot to say about youngsters and growing up, and his wonderful mixtape soundtracks seem to speak to those type of stories.
20th Century Fox has now set a release for on December 23th 2011.