Carla Gugino Joins Jim Carrey In 'Mr. Popper's Penguins'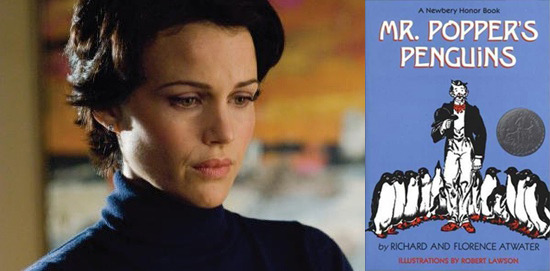 Briefly: Jim Carrey is starring in an adaptation of the childrens book Mr. Popper's Penguins, which is set to shoot in New York. (Based on some photos I saw yesterday, the film may be shooting now, or very soon.) And now Carla Gugino has taken up a role in the picture.Variety summarizes the film's plot, slightly altered from that of the book (of course) as "Mr. Popper is a high-powered, New York buisnessman who suddenly inherits six penguins. Taking care of the animals is no easy matter, and he quickly hits major hurtles, both at home and at work. But along the way, he learns the value of family and friendship–human and otherwise."
We don't know Gugino's role, but it is reasonable to expect she'll be the female lead / love interest. Nice bump for Gugino if the film turns out well. Mark Waters is directing based on a script by Jared Stern, who rewrote the Sean Anders and John Morris script. There was a point where Noah Baumbach and Ben Stiller were looking to make the film, but if you're recalling that info, they've moved on.