David O. Russell Might Direct Jim Carrey In 'Under Cover'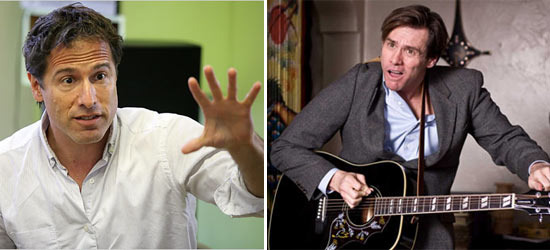 Well this would be an unexpected turn of events. Nothing is set in stone—meetings are currently taking place, and Summit is looking over their options—but David O. Russell is a leading contender to direct Under Cover, the high-concept Jim Carrey comedy we reported on last month. The film is about "a recently divorced father of two who joins a youthful cover band so he can earn enough money to win his custody battle against his ex-wife".
24 Frames says other directors are being considered as well, but doesn't list any names. Frankly, I'd be stunned if one of them didn't end up directing the film instead.
David O. Russell is a very talented filmmaker, and he isn't one to take on projects lightly. If he doesn't see eye-to-eye with the studios and/or producers, he'll quit or let the project die. With a movie like Under Cover, which is so heavily banking on its mainstream appeal, I can't imagine Summit comfortably allowing Russell to have full creative control over the production.
On the other hand, maybe the studios are looking to filmmakers like David O. Russell because they see something in the material beyond just its broad comic potential. Someone like Russell could bring a heartfelt realism to the film's silly antics, as he did with Flirting with Disaster and I Heart Huckabees. If the studio is steering the picture in this direction, then there may be a reason to look forward to this one. It'd certainly be great to see Carrey return to a slightly more dramatic role, where he's able to play a character that's actually grounded in this plane of existence.
We'll see how things turn out, but for now, at least we have I Love You Phillip Morris to tide us over.
As for Russell, he's set to direct Old St. Louis next, so even if he were to direct Under Cover, he'd need some time before his schedule clears up. That film stars Vince Vaughn (and may star Scarlett Johannson), and is about a traveling salesman whose life changes when his daughter becomes a part of his life. Russell's most recent film, meanwhile, recently premiered its trailer. The Fighter will be released in a limited run on December 10th 2010 before opening nationwide on December 17th 2010.