Kim Ji-Woon Reportedly Set To Direct 'The Last Stand'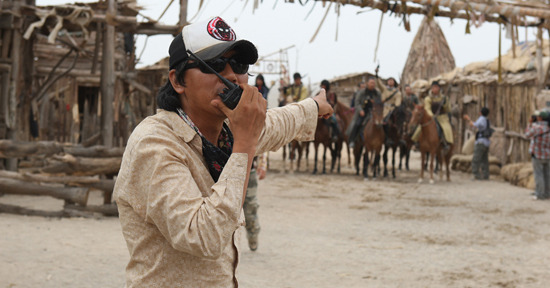 Korean director Kim Ji-woon may be poised to reach a more mainstream audience than ever before. You can get his tremendously fun The Good, the Bad and the Weird on DVD now, and Magnolia/Magnet just picked up his new thriller I Saw the Devil for North American release in the wake of a successful showing in Toronto.(Check out the trailer.)
Now the director is reportedly set to helm The Last Stand, based on the Andrew Knauer script that landed on the 2009 Black List.
Latino Review reports that Kim Ji-woon is set to direct the film for LionsGate, with production set to start next spring.
The script is said to be a car-themed take on High Noon, following "A drug cartel king [who] escapes his trial in a 200mph Gumpert Apollo, and the only thing in between him and Mexican freedom is a small town cop in a bordertown."
High Noon's setup — a retiring/reluctant lawman stands alone against a gang of vengeful outlaws — is one of the most famous and oft-imitated in the world of film. It was referred to and inverted in Once Upon a Time in the West, remade as a space-bound thriller in Outland and touched upon in dozens of films.
So a new version is hardly remarkable, but the concept is simple and flexible enough that there's no reason not to put it back to work, as long as the characters involved are good. Throw cars in and you could have an instant mid-budget action flick with a simple enough premise that any marketing department would have to work overtime to keep audiences away.
What does this mean for Max and the Junkmen, the last US studio flick we heard Kim might direct? (That one was to be a remake of a '71 French heist film, possibly starring Clive Owen and Sienna Miller.) It was originally meant to shoot early this year, so I Saw the Devil is the film that Kim made instead. Will Junkmen happen at all now? We're uncertain.