Movie Trailer: Hobo With A Shotgun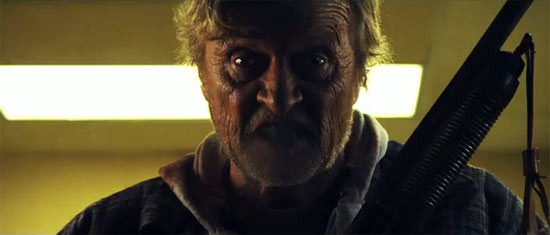 Add another title to the ever-growing list of meta-films, this one being possibly the most ridiculous of all. It's odd enough that the fake trailer for Machete was made into a movie, but that project had Robert Rodriguez (and a budget) backing it, not to mention it was originally envisioned as a feature-length film prior to the trailer even being made. Hobo With a Shotgun, meanwhile, began life as an entry for a SXSW contest for Grindhouse, and was made by a guy working at a comic book store.
And yet here we are, with a genuine trailer for the feature adaptation of the no-budget trailer, starring none other than Rutger Hauer. Check it out after the break.
The trailer comes from AICN, and be warned, it's unrated (for reasons that are sure to please). It's gruesome; it's violent; it's completely insane.
All of that was to be expected though. What I wasn't prepared for, however, was a legitimately well-crafted exercise in atmospheric, synth-enhanced build-up, played perfectly against the gruff, beaten-down tones of Hauer's voice.
Machete and Planet Terror have their appeal, but Rodriguez makes it almost too clear that they're being played for laughs. While there's definitely a place for that sort of wink-wink camp—it balanced out Tarantino's more serious half of Grindhouse nicely—I find movies like this far more enjoyable when they're (seemingly) played straight, as Hobo With a Shotgun appears to be. I can't wait.
Watch the trailer below.
The original contest-winning trailer:
Treevenge, director Jason Eisener's widely praised short film:
Thanks to /Film reader Glen Matthews for the tip.