This Week In DVD & Blu-Ray: Red Riding Trilogy, Harry Brown, And More
We may receive a commission on purchases made from links.
This Week in DVD & Blu-ray is a column that compiles all the latest info regarding new DVD and Blu-ray releases, sales, and exclusive deals from stores including Target, Best Buy and Fry's.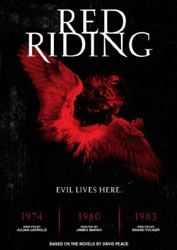 RED RIDING TRILOGY
"This is the North—we do what we want."
The Red Riding trilogy is as ambitious a set of films as you're likely to see, intertwining characters and events from three distinct stories (separated by date: 1974, 1980, 1983) that use the real-life Yorkshire Ripper case to explore tales of deep-seated provincial corruption. You could watch each one as a stand-alone film, but it's the time-spanning intricacies that give the trilogy its heft. Individually, the films are well-made, well-acted and well-written, but not emotionally engaging enough to justify a one-off viewing; the reward comes from watching them together, with each subsequent film thoughtfully complementing what's come before. So if you're going to give the trilogy a try, be ready to commit to it. Some may find this harder than others, as the tone of series is unrelentingly grim and bleak, and its methodical pace requires some patience. The payoff is worth it though; the motivations of the films smoothly transform as they progress, initially introducing conflicts dealing with investigations of the murders only to reveal by the end that the story you've been watching has been about something else entirely. If it recalls Zodiac, it's for all the right reasons.
Available on Blu-ray? Yes.
Notable Extras: DVD & Blu-ray – TV spots, deleted scenes, a trailer, a making-of, and an interview with Julian Jarrold.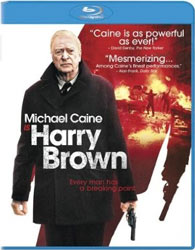 HARRY BROWN
If you're looking for some balanced insight into how a broken system can result in a generation of troubled kids becoming reprehensible little s***s, seek out Season 4 of The Wire. Harry Brown has no such interests. It seeks only to tell the tale of a beaten-down old man who gets a gun and blows those reprehensible little s***s away. Its moral compass is unquestionably askew, but refreshingly so. So often we find revenge thrillers that want us to enjoy the carnage it lays down, only to later wag its finger at the audience for partaking in that pleasure. The deadly serious Harry Brown posits another theory: It doesn't matter why they are the way they are; these little assholes deserve to die, and Michael Caine should be the one to do the killing. Honestly, I'm finding it hard to argue.
Available on Blu-ray? Yes.
Notable Extras: DVD & Blu-ray – Commentary with Michael Caine, director Daniel Barber and producer Kris Thykier, and deleted scenes.

MARMADUKE
Rule of thumb: If a film stars George Lopez in any capacity, it's a guarantee that it's going to be terrible. One glance at his filmography is proof of this: The Adventures of Sharkboy and Lavagirl 3-D, Balls of Fury, Beverly Hills Chihuahua, The Spy Next Door, Valentine's Day, and now Marmaduke. Granted, you didn't need to know about ol' piss-head's involvement to know that a movie based on the worst newspaper comic strip ever would suck, but it's nice to get some reassurance on the matter. Coming soon from George Lopez: Beverly Hills Chihuahua 2 and The Smurfs!
Available on Blu-ray? Yes.
Notable Extras: DVD – 2 featurettes ("Cowabarka! Surfing Dogs", "Canine Casting"), and deleted scenes. Blu-ray – Includes everything on the DVD, as well as a gag reel, and Puppy Marmaduke and Kitty Carlos: Home Movies.
Other noteworthy DVD (and Blu-ray) releases this week...
Tyler Perry's Why Did I Get Married Too? [DVD / Blu-ray] – Sons of Anarchy (Season 2) [DVD / Blu-ray] – House (Season 6) [DVD / Blu-ray] – The Middle (Season 1) – Flashforward (Season 1) – Parenthood (Season 1)
Noteworthy Blu-ray-specific releases this week...

NOTES: Some deals may vary by store. Some deals may be in-store only. All deals are for DVDs unless otherwise noted.

Exclusive Retail: Babies, on DVD ($16.99) and Blu-ray ($22.99).
Exclusive: House (Season 6) DVD contains over 45 minutes of Q&A with the cast & crew.
$17.99 – Breaking Bad (Season 1 – 2)

Exclusive Blu-ray Retail: Anchorman ($19.99), The Blair Witch Project ($9.99), The Score ($14.99), Martin Scorsese Collection ($44.99) ft. The Departed, Goodfellas, and The Aviator
Exclusive: Bonus disc on House (Season 6) DVD or Blu-ray, with never-before-seen features.
$19.99 – LOST (Season 1 – 5), Fringe (Season 1), It's Always Sunny in Philadelphia (Season 1 – 4), House (Season 2 – 5), Criminal Minds (Season 3 – 4)
$24.99 – Sons of Anarchy (Season 1)
$6.99 – Blu-ray sale: The Brothers Bloom
$7.99 – Blu-ray sale: Trick 'r Treat, Crank, Reservoir Dogs, Interview with the Vampire, Deliverance, Bullitt, The Getaway, The Wild Bunch, High Tension, 3:10 to Yuma, Terminator 3, Eraser, The Brave One, The Omega Man, The Fordbidden Kingdom, Freddy vs. Jason, Over the Top, Dead Calm, Tango & Cash, Collateral Damage, Under Siege, Blazing Saddles
$9.99 – Blu-ray sale: Hard Candy, Galaxy Quest, Ghostbusters, South Park: Bigger Longer & Uncut, The Way of the Gun, The Last Starfighter, Big, Brokeback Mountain, Super Troopers, Starship Troopers, Superbad, The Prestige, Phone Booth, Commando, Sleepy Hollow
$3.99 – Terminator 2: Judgment Day, Blazing Saddles, Charlie Wilson's War, Twister, The Corpse Bride

$12.99 – Blu-ray sale: Hot Fuzz, In Bruges, Drag Me to Hell, Serenity, Traffic, Public Enemies, Alpha Dog, Apollo 13, Casino, Dune, The Jackal, The Last Starfighter, Love Actually, Pride & Prejudice