Jim Carrey And Director Mark Waters Confirmed For Mr. Popper's Penguins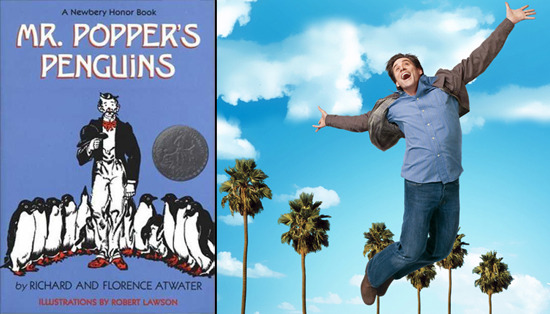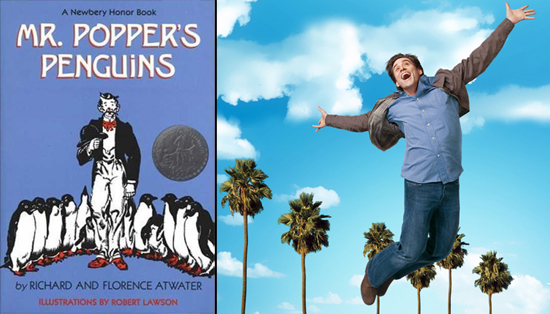 Well this is unfortunate timing. On the same day news broke of a rather lame-sounding potential Jim Carrey vehicle, confirmation has arrived that he's going to be starring in Mr. Popper's Penguins, a needless modernization of the children's-favorite 1938 book that was originally poised to reteam Noah Baumbach and Ben Stiller.
Director Mark Waters, who's filmography is decidedly mixed (high points: Mean Girls, The Spiderwick Chronicles; low points: Head Over Heels, Ghosts of Girlfriends Past), will direct. Learn about how the film plans to depart from the original story after the break.
The confirmation comes from Variety and Deadline, the latter of which notes that the studio got Carrey cheap.
The book tells the story of a poor house painter who dreams of exploring the Arctic, and even sends out letters to actual explorers. One day an explorer reads his letter on a radio broadcast, adding that he's sent Mr. Popper a surprise in the mail: a pet penguin. Over time, the penguin grows lonely, prompting Mr. Popper to order a female penguin from a zoo. Before long, the penguins mate, leaving Mr. Popper to take of twelve penguins, while his house and family are left in disarray.
Where the book tells a tale of at least moderate complexity (for a children's book, anyway), the concept has been significantly simplified for the film. In this version, Mr. Popper is a high-powered New York businessman who suddenly inherits six penguins, causing his upscale life to be turned upside down. But along the way, "Popper comes to understand the importance of family – human and otherwise". That's from the logline. I'd complain about spoilers, but I think all of us could've predicted that ending anyway.
As disappointed as I am that we'll never get to see what Noah Baumbach and Ben Stiller would've done with this charming children's tale, I find that the project grows more appealing when I pretend it's a prequel to Ace Ventura: Pet Detective.