Movie Trailer: 'Nice Guy Johnny', The New Film From Edward Burns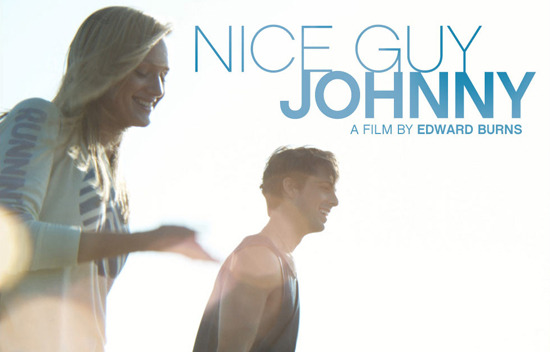 Did you know Edward Burns has a new movie coming out? Nice Guy Johnny premiered at the Tribeca Film Festival, but has managed to fly under the radar since then. The film is hitting VOD, DVD and iTunes in October, but until then there's an official trailer, which is after the break.
It's difficult to see how the trailer doesn't offer the whole film, as the nice guy of the title (Adventureland's Matt Bush) spends a day with free spirit Kerry Bishé, who is (evidently) a more romantically attractive prospect than the girlfriend who is making him get a 'real' job. Ed Burns' films have never been my cup of tea, but even with that taken into consideration this seemingly twee story looks to be way too much on the nose. Hopefully the film offers more.
Burns talked about the film during the Tribeca Film Festival, saying,
This is a movie about the cost of being asked to give up your dream. Two years ago, I walked out of a meeting with my agents who strongly encouraged me to put myself up as a director for hire. While there's nothing wrong with that, I didn't spend my entire adult life fighting to become a filmmaker with a personal voice to abandon that for what might be higher paying but less rewarding work. I walked out of the meeting and thought, "I need to write a script about how tough it is to make that choice.
I'd much rather see a film about how tough it was for Burns to make that choice, personally, rather than a mid-'20s kid trying to decide between versions of a life that has barely started. Maybe the film does hit that point, and the trailer just cuts around it.
Here's the official synopsis:
Sure, she can be a little overbearing sometimes, but baby-faced Johnny Rizzo loves his fiancee Claire, and he made her a promise: by the time he's 25-years-old, he'll trade his current dream job as a local sports talk radio host (even if it is the 2 a.m. slot) for something that'll pay bigger bucks. And Johnny's nothing, if not a man of his word. Now he's flying to New York to interview for some snoozeville job that Claire's well-to-do father set up. Enter Uncle Terry, who lives in New York, a rascally womanizer bent on turning a day in the Hamptons into a final fling for his nephew. Nice guy Johnny's not interested, of course, but then he meets the lovely Brooke...
Apple has the trailer in HD.