Ryan Reynolds To Co-Star With Denzel Washington In 'Safe House'?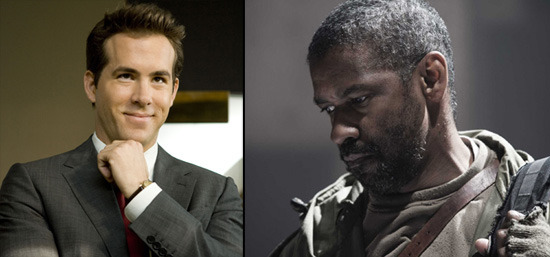 Briefly: It's Ryan Reynolds day! There was just talk of Green Lantern sequels, Deadpool and R.I.P.D., and now there's word that Reynolds is the 'top choice' to work opposite Denzel Washington in the thriller Safe House. Deadline says that Reynolds is the frontrunner in a giant pack of young actors that want the role. Shia LaBeouf, Taylor Kitsch, Chris Pine, Sam Worthington, Garrett Hedlund, Zac Efron, Channing Tatum, Chris Hemsworth and Jake Gyllenhaal are all said to be in contention for the part. Note that there's no offer yet, so this is just talk for now.
Reynolds (or whoever gets the gig) would play a young CIA agent tasked with transporting a criminal (Denzel Washington) to safety. As we reported before, David Guggenheim's story was snagged by Universal in a bidding war, and has Snabba Cash director Daniel Espinosa set to helm. The basic setup for the script goes as follows:
Set in South America, Safe House follows a young U.S. intelligence agent who must go on the run with a newly arrived prisoner (Denzel's potential role) after his titular safe house comes under attack — think of a mix between Collateral and Three Days of the Condor.