Will Blake Lively Or Scarlett Johansson Star In Alfonso Cuaron's 'Gravity'?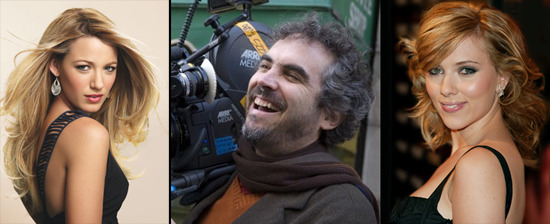 Who will play the female lead opposite Robert Downey, Jr., in Alfonso Cuarón's upcoming film Gravity? Scarlett Johansson has been the name attached for several months, but last week there was a rumor that Blake Lively was gunning for the role. At the time the news seemed insubstantial, but now there is reason to believe that Lively has a better shot at the role than we'd previously thought.
So the Blake Lively rumor came up last week via the NY Daily News, and got a little extra steam in the paper thanks to the fact that Lively, aka the co-star of Green Lantern with Ryan Reynolds, was trying to take the role out from under Reynolds' wife, Johansson. Ooh, catfight! (Bleah.) But the paper went on to admit that it wasn't even a story, because Cuarón was dead-set on Johansson.
Turns out it actually was a story. Johansson pepared to sign on to David O. Russell's Old St. Louis, which seemed to put her commitment to Gravity in doubt. Now THR says that Gravity probably won't shoot until early next year, and that Cuaron tested both actresses in the past couple weeks. A decision between them is expected "within the next week or two." There's a suggestion that WB is interested in Lively, thanks to her work for the studio in The Town and Green Lantern.
Alfonso and Jonás Cuarón (the latter being the director's son) scripted the film, which we've previously told you would feature the male lead (likely Downey) as the leader of a team posted at a remote space station. While he and a female colleague are traveling outside the space station, the other team members are decimated by debris from an exploded satellite.
THR now adds some detail, saying that rewrites have taken place over the summer. Trade says the astronauts are repairing the Hubble telescope when the debris hits. Sounds like the female lead would really be the primary figure in the film, as the trade says, "In a plot akin to Cast Away, the surviving astronaut must fight her way back to Earth, where she hopes to reunite with her daughter."
So you can see why Angelina Jolie was once interested in the role, and why Marion Cotillard tested for it. This isn't just another typical cookie cutter supporting female role.
We've also heard that Gravity will be 60% CGI, with many hybrid CGI and live-action elements. Think Avatar, but more budget and story conscious. Sounds great, frankly, and after Children of Men, I can't wait to see what the Cuaróns have come up with.