Despite An Appeal To The MPAA, Holocaust Doc 'A Film Unfinished' Is Stuck With An R Rating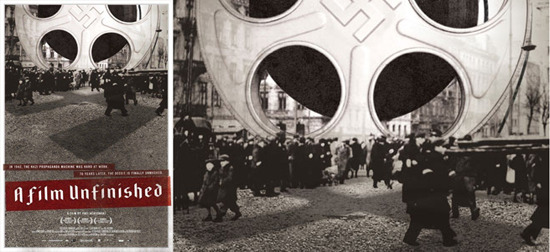 To quote Beastie Boy and Oscilloscope Laboratories founder Adam Yauch, "[the MPAA has] really gone too far this time. It's bullshit."
That was Yauch's response earlier this week when the MPAA slapped an R rating on the documentary A Film Unfinished, which examines a Nazi propaganda film made to supposedly depict the life of Jews in the Warsaw ghetto. Yauch and Oscilloscope resubmitted the film, but today it was returned with the same rating. Why? Because images of the Holocaust — surprise — are graphic and disturbing.
The R rating was upheld due to "disturbing images of Holocaust atrocities, including graphic nudity," says THR. Yauch's beef with the rating is summed up in his reaction earlier this week: "This is too important of a historical document to ban from classrooms." I haven't seen the film (it did play at Sundance this year) so I can't argue whether or not the film is actually a reasonable doc to play in schools.
Should a documentary be evaluated by a different set of standards than a dramatic film? I'd say that documenting the Holocaust is impossible without showing graphic content. It's a piece of history that must be taught, and there's no way to do that without disturbing imagery — subjects don't get much more disturbing. Assuming the film is responsible in its use of graphic imagery, the rating is difficult to accept quietly.
(Since I know it'll come up in the comments, Schindler's List got an R (in part because of sex) but was shown almost uncut on prime time TV. That's what the power of Spielberg's name gets you.)
Of the upheld rating, Yauch said,
In a world where young people are bombarded with meaningless entertainment, it's unfortunate that a film with real educational and historic value would be denied to them by an organization that is supposed to be working to help them...I still have hope that the MPAA will reconsider at some point in the future, so young people will be able to learn from this film.
A Film Unfinished will be released in New York on August 18, in Los Angeles on August 20 and then in theaters across the US afterward. There haven't yet been statements made about the possibility of release without an MPAA rating, though that would also limit the film's advertising options in some markets.