First Footage: 'Butter', Starring Jennifer Garner And Hugh Jackman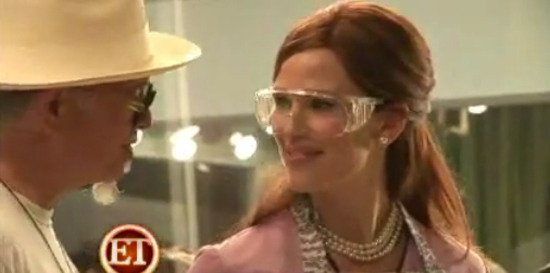 We've talked a lot about the casting for Butter, the Black List script by Jason Micallef that Jim Field Smith directed starring Jennifer Garner, Hugh Jackman, Ty Burrell, Rob Corddry, Ashley Greene, Olivia Wilde, Alicia Silverstone and Yara Shahidi. The film takes place in Iowa among an interrelated group of people, with championship butter carving being the event that brings them all together. But the film is also a political satire, which makes it a much more interesting prospect.
Now there's a five-minute clip of interviews, footage and behind the scenes video that will give you a taste of what the film offers.
Entertainment Tonight has the video clip, which features Garner, Jackman and most of the rest of the cast explaining their characters. Garner explains that she plays a woman whose husband (Ty Burrell) is a champion butter carver and that she sees his carving success as a route to politics and greater things. When he quits carving, she kinda loses her mind and dives into competition herself.
Jackman talks about his character, who runs a car dealership and was a former boyfriend of Garner's character. He has a bit of a giggle describing how he jumps at the chance to have further association with Garner. He comes off seeming like he'd be right at home in a Coen Brothers film: a little desperate, messed up and headstrong. Based on this, Jackman sounds like he might have the best part.
And then there's Olivia Wilde, who plays Brooke, a "sassy smart, raunchy, funny...stripper." Wilde describes her as like a tasmanian devil moving through the town, trying to get away with whatever she can. And Ty Burrell praises the film's approach to the subculture the film represents.
There are also comments from Alicia Silverstone, who plays the adoptive mother of a young carving upstart played by Yara Shahidi, and Ashley Greene.
What doesn't come across much is the political underpinning of the movie and the satire. Jackman compares Butter to Little Miss Sunshine, To Die For and Fargo, and he's the only one to really highlight the fact that the film is a satire. But some of the footage might get that across, too, especially when you see Garner and Burrell on stage in what looks more like a political rally than a state fair butter carving competition. Between the glimpses we get here and what we've known about the script in the past, I'm more and more curious about the film.