Movie Trailer: Priest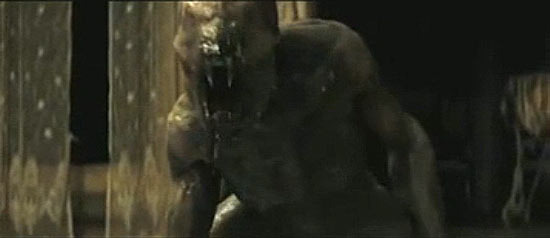 Attempting to describe the trailer for Priest proved near impossible following its premiere at Comic-Con, but the good news for you guys is that now I don't have to. Sony Pictures has released the film's official trailer online, which shows off the film in all its apocalyptic, futuristic, monster-infused glory. Check it out after the break.
Previously:Scott Stewart's action/horror/thriller Priest stars Paul Bettany as a priest who disobeys church law to track down the vampires who kidnapped his niece. Stewart comes from a special effects background, working on films such as Sin City, Harry Potter and the Goblet of Fire, and Iron Man, among many others. He made his directorial debut with Legion.Official Plot Synopsis: Priest is set in a world ravaged by centuries of war between man and vampires. Paul Bettany is Priest, a legendary warrior priest during the last Vampire War, who now lives in obscurity among the other human inhabitants in walled-in dystopian cities controlled by the Church. But when his 18-year-old niece is abducted by a murderous pack of vampires in the desolate wastelands outside, Priest breaks his sacred vows and ventures out to find her and seek vengeance upon those responsible, especially their brutal leader (Karl Urban). Priest is joined on his crusade by his niece's boyfriend, Hicks (Cam Gigandet), a local outpost sheriff, and Priestess (Maggie Q), a member of his former legion of vampire-killers who has otherworldly fighting skills.Priest will hit theaters on May 13th 2011.