First Look: Nicolas Cage And Amber Heard In Drive Angry 3D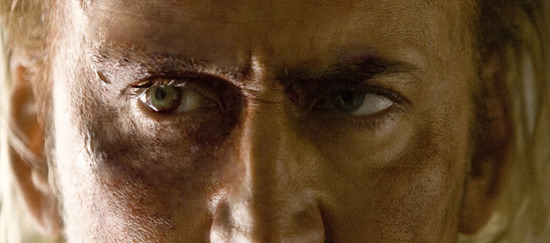 Just the other day we showed you a few concept art images from Patrick Lussier's Drive Angry 3D, which stars Nicolas Cage as a father brought back from Hell to avenge crimes against his daughter and granddaughter. Now there's the first photo of Cage, looking even more insane than usual. There's also an image of Amber Heard, who lounges in a muscle car thinking that if people had ever had the chance to see her in All the Boys Love Mandy Lane, she'd have been cast over Megan Fox in Transformers.
HitFix has both of these images — no surprise as the site's Drew McWeeney will be moderating the Drive Angry panel in Hall H at Comic Con a couple days from now.
I was already planning on hitting that panel, as the concept art left me really curious about how the film would actually look. And when I opened this image of Cage, I cackled out loud. (That's a COL, if you were wondering.) Do I miss the Nic Cage of old, who could sometimes out-act every guy around him? Yeah. But I also love the batshit-crazy Cage of today. 'Good' or not, he's a lot more entertaining than many other actors around.
Check out HitFix for an image of the reliably great William Fichtner, who plays another character spawned from Hell, called The Accountant. And Arrow in the Head has a huge pic of the devlish but rather cartoony-looking Billy Burke as he appears in the film.
Here's the official synopsis:
In the newest 3D action-adventure from the director of MY BLOODY VALENTINE, DRIVE ANGRY stars Nicolas Cage as Milton, a hardened felon who has broken out of hell for one last chance at redemption. Intent on stopping a vicious cult who murdered his daughter, he has three days to stop them before they sacrifice her baby beneath a full moon.
He's joined by Piper (Amber Heard) – a young, sexy waitress who liberates her ex-boyfriend's cherry-red muscle car in order to help Milton.  Now, the two of them are hot on the trail of the deadly leader of the cult, Jonah King (Billy Burke), who believes it is his destiny to use the baby to unleash hell on earth.
But the bloodthirsty cult is the least of Milton's problems.  The police are after him too. And worse, an enigmatic killer known only as "The Accountant" – who has been sent by the Devil to retrieve Milton and deliver him back to hell. With wicked cunning and hypnotic savagery, the Accountant will relentlessly pursue Milton at high speed across the country until his mission is accomplished.
Fueled by high octane and pure rage, Milton must use his anger to go beyond all human limits to avenge his daughter's murder, before his last chance at redemption is revoked.
U.S. Release via Summit Entertainment, February 11, 2011. Not yet rated.