Magnolia Buys 'I'm Still Here: The Lost Year Of Joaquin Phoenix,' Will Release In September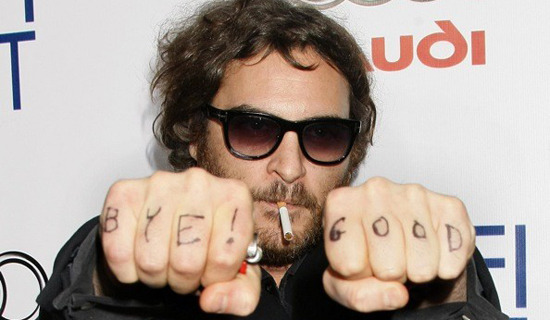 Earlier this year we heard that the film about Joaquin Phoenix, directed by Casey Affleck, was finished and being shown to buyers. Shortly it came down that Magnolia seemed to be the most likely home for the film, and the company has now announced the acquisition of I'm Still Here: The Lost Year of Joaquin Phoenix.
We've been calling the film a documentary or a mockumentary, but the Magnolia press release doesn't use those words. Instead, it describes the film thus:
[a] striking portrayal of a tumultuous year in the life of internationally acclaimed actor Joaquin Phoenix...sometimes funny, sometimes shocking and always riveting, the film is a portrait of an artist at a crossroads. Defying expectations, it deftly explores notions of courage and creative reinvention, as well as the ramifications of a life spent in the public eye.
None of which really tells us much about what the film actually is, with respect to any objective sense of reality. That probably doesn't matter, though.
Magnolia's Eamonn Bowles told Deadline,
No matter what I thought coming in, I came out feeling this was a pretty amazing piece of work, jaw dropping but dimensional...It is going to get a lot of attention, but it is not some cheap stunt where they said, 'Let's do some wild stuff and film it.' It is extreme behavior but really good filmmaking as well. Frankly, some of the behavior is very extreme. But it is in the context of the insanity of being in Joaquin's life for that period of time. It is a unique piece of work that is going to surprise people in different ways.
What's the extreme behavior? Reportedly, it includes on-screen cocaine use, hiring hookers, oral sex with a publicist, a great deal of full frontal male nudity and a scene in which someone poops on Phoenix while he sleeps.
Magnolia will give the film a limited release on September 10, then open it in more theaters a week later. There's also the possibility of a festival berth, either at the Toronto or venice fest. The film will also hit Video on Demand.