Paul Reubens Says Pee-Wee Herman Film Will Be Based On All-New Script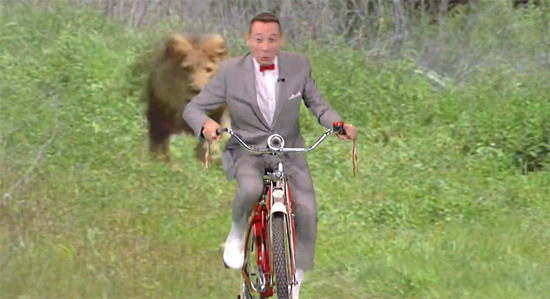 When news broke last night that Judd Apatow is producing a new Pee-wee Herman film to be written by Paul Reubens and Paul Rust, I speculated that this might be one of the two Pee-wee scripts Reubens has talked up over the past few years.
But comments from someone who saw a recent Reubens Q&A suggested that this is an all-new, third script. And now comments from Reubens confirm that the Apatow-produced movie is indeed different from the other Pee-wee projects we've previously known about.
The New York Times talked to Reubens today, and he relates that Apatow wanted a different script than the two drafts Reubens was already working on.
He was more interested in something closer, in the same vein and the same genre, as 'Big Adventure.'
Reubens goes on to say that Apatow wants "a reality-based world and a linear road movie," so Reubens and Rust are writing a new script that goes along those ideas. He does say that this could become the new Playhouse movie, essentially supplanting the existing script (which he's recently said is written and ready to shoot) but Reubens also says that things are in the very early stages.
On one hand, I think it's a great idea for Reubens to start fresh with a new set of ideas — I'm afraid the existing Pee-wee scripts might be so worked over that they don't have any zing left. But there's also reason to worry about some of Apatow's influence on the character. The NYT even pokes a bit at Apatow's tendency to cast from his established stable of actors, asking Reubens if he'll be writing roles for Seth Rogen or Jonah Hill. (The diplomatic answer: "I don't think we have to, but it would be a great problem to have.")
Incidentally, the NYT also reports that Reubens will appear in character at the Sturgis Motorcycle Rally in South Dakota on August 8 and 9, to attempt to lead the world's largest 'Tequila' dance. So if you want to be in the record books, make plans now.